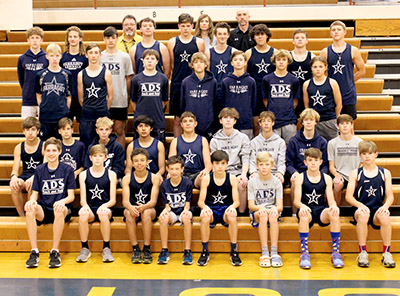 With three first-place finishes — while claiming a top-eight finish in 10 of 12 events — Farragut Middle School boys track & field team earned the 2022 Knox County Middle School Track & Field Championship recently at Hardin Valley Academy.

Led by four-time Knox County Coach of the Year Chris Cavalaris — with the assistance of Sarah Archer, Mark Chenot and Nicole Jackson — "This year's team has been an extremely fun group of athletes to coach. The championship is a direct result of eighth-grade leadership," Cavalaris said. "This is especially true of the sprinters, led by Hunter Bolen."

However, "The Knox County Championship was a total team effort with scoring in sprints, distance and field events," he added.

Chase McAvoy was champ in the 400-meter sprint.

Two relay teams also raced to a crown: the 4 x 200 foursome of Tyler Martin, Hunter Bolen, John Haskins and Johnny Jacobs, and the 4 x 800 quartet of Sam Shagan, Corom Hiebasko, Harrison Smith and Joey Nieman. Eleven FMS athletes recorded a personal record at this meet, which featured 22 schools.

20 at state, FMS girls 13th

Combined with the FMS girls track & field team, 20 Farragut athletes earned a trip to the Tennessee Middle School Athletic Association Track & Field State Championship meet Saturday, May 21, at Franklin High School.

Farragut's girls finished 13th as a team, led by eighth-grader Annie Steele's runner-up finish in shot put (36 feet-08), Seventh-grader Ariana Vargas captured fourth in the 800 run (2:27.89, while Jillian Hurley, an eighth-grader, took seventh place in high jump.

The FMS boys earned points thanks to Chase's eighth-place finish in the 400, and the 4 X 400 relay's eighth-place showing.