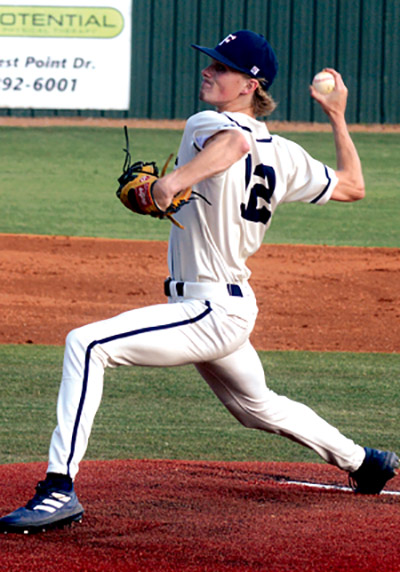 The Farragut High School baseball team is headed back to the TSSAA state tournament. Again — for the 22nd time.

In a game characterized by "wasn't real pretty but we'll take it," the homestanding Admirals held off a late-charging Sevier County team, 7-5, in a Class 4A Sectional win Friday, May 20.

If FHS survived into Thursday, May 26, it would play at Oakland High in Murfreesboro at 3 p.m. EDT, 2 p.m., CDT. The state title game begins at 2 p.m., EDT, 1 p.m., CDT, Friday, May 27, at Oakland. Farragut seeks an 11th state championship.

"I know we do it about every other year (make state), but it's a big deal," Admirals skipper Matt Buckner said. "I'm proud of our guys. We're a young ballclub. We had to fight through some stuff ... but we do fight."

Farragut took a 1-0 lead in the second when Jett Johnston hit a home run to left field. In the fourth they made it 3-0 on Jack Alley's RBI single and Mark Underwood's RBI single.

In the bottom of the fifth, the Admirals scored four more. With the bases loaded and no outs, Jake Merrick doubled to score Landis Davila and Eli Evans. Two batters later, Underwood singled to score Johnston and Merrick.

The 7-0 lead, however, barely stood up.

Senior Jaxson Pease, FHS staff ace, gave up two earned runs and six hits in five-and-two-thirds innings. "Jaxson Pease was really good," Buckner said. "He just wore out. ..."

Down 7-2 heading into the seventh, the Smoky Bears got a double and a triple to score three runs, with runners at first and second and one out.

A long fly to left field off reliever Evans barely stayed in the yard for the second out. A grounder to third baseman Ellis Gleed ended the game.

"The whole inning (seventh) was a tragedy in the making," Buckner said. "But you know what? We're still playing. We hung in. That's what we do well. We hang in."

"We're gonna go down there and see what we can do," Buckner added about the state trip.