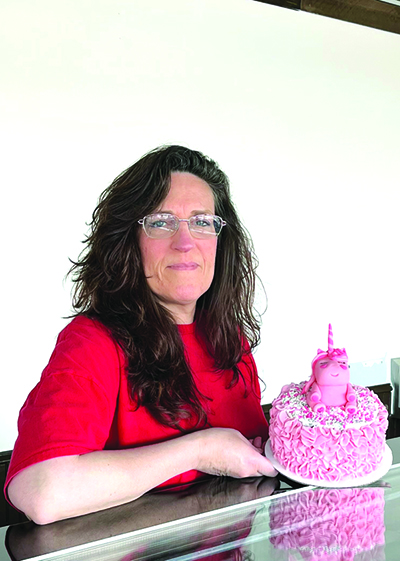 Christine "Chris" Goebel will be making cakes an art form in her "Old World" Alpine Cakery, which she expects to open Saturday June 4, at 10557 Kingston Pike, Suite 10551, the former location of Knox Dough.

Goebel combines her German-Austrian ancestral influence with her design background to create one-of-a-kind cakes, cupcakes and cookies.

"Hopefully, down the road, I may have a Friday Pie Day — whatever else I can pump out after I do the cakes," she said.

While making cakes for a living is not new to Goebel, the shop is her first business endeavor.

"I really don't know what to expect, but I'm excited," she said. "I've got all my mom's recipes" so the cakes and cookies will be made from scratch.

"It's not going to be mixes; it's not going to be out of buckets," Goebel added. "As much as I can make myself, I'm going to make. It's pretty much 100-year-old recipes.

"I hope it's going to be a little different from what's around here. We're going back to old school. Hopefully, the place will have more of an old world mountain feel … a little bit of a European twist on it."

Having grown up in Chicago, Goebel's background is in art, but she worked in a bakery during college — where she was studying and earned a degree in design — and caught the cake-baking bug.

"I got the job because I had an art background," Goebel recalled. "I just loved it.

"There was a bakery for sale when I was 19, and I begged my mom to buy it, and she just wouldn't," she added.

Goebel's dream to open her own bakery persisted even though she and her family moved around — South Carolina for four years and Florida for eight years.

"I had a small business for a while, doing commercial displays, but it was just at the time I got married and pregnant," she recalled.

She decided to become a stay-at-home mom, waiting for the opportunity to get back to the work force.

"I thought when the time is right and the location is right, I could open my own bakery and specialize in cakes because that's what I like doing," she said.

"When we moved here, I said, 'It's time to open the bakery' because I want to stay here,'" Goebel added.

"We need a bakery around here. Hopefully, I can just pump cupcakes out the door all day."

Goebel is still considering the hours her bakery will be open. For more information, call 865-396-1258.