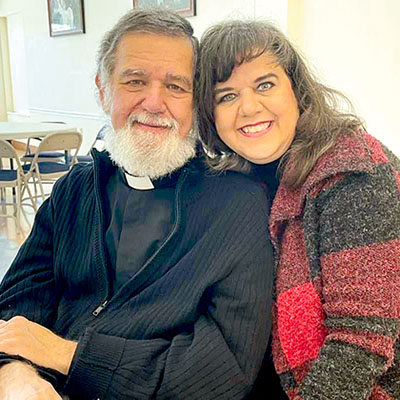 Farragut High School Class of '82 graduate Doug Floyd — already reliant on a strong faith and family network — is especially thankful for that support now as he faces an unexpected need for a second kidney transplant.

"I'm still feeling pretty good," he said in a phone interview from the Blount County home he shares with his wife, Kelly. "You just sort of adapt."

Floyd has continued to teach homeschool classes and serve as a Rector with St. Brendan's Anglican Church in Maryville, even as he undergoes dialysis three times a week.

His long-standing kidney issues began in high school, when a routine physical revealed his blood pressure "was off the charts" signaling undiagnosed problems that led doctors to remove one of his kidneys at that time.

Unfortunately, that surgery didn't help the blood pressure issue, leading to a diagnosis of chronic kidney disease.

"They don't know what caused it," Floyd said, noting he fared fairly well until 2005, when his kidneys began to fail.

A close friend came through and donated a kidney to him in 2006, which lasted until Floyd contracted COVID last summer.

"My wife and I both had it, even though we were both vaccinated," he said. "It put me in the hospital, and I suffered quite a bit of blood loss. They gave me a lot of blood, which ended up saving my life."

However, shortly thereafter, Floyd's donated kidney began to fail, too. His doctors believe it was a result of his COVID bout.

"So now I've applied to the transplant list at University of Tennessee Medical Center," he said, praising the hospital's care while treating him for COVID.

"The care I got at UT was unbelievably good," he said. "There is no doubt they saved my life. There have been so many people who have died of COVID. I don't know why I survived. It's a mystery and very much a blessing."

Floyd was known as a comedian and actor in high school, prominently performing in plays and musicals at Farragut. He remains close to Class of '82 "Class Clown" and class president Vik Moore, with whom he helped form the comedic group "The Quads," comprised of fellow FHS drama students.

Alongside that comedic bent was a deep and abiding faith that led Floyd into the ministry.

"I have been in the ministry most of my life," he said, noting he also has worked various jobs in the private sector.

With an undergraduate degree in communications, then a master's degree in rhetoric, Floyd said studying how to build community became very important to him.

Witnessing poverty as a college student really pushed Floyd into his calling, he said.

"Having grown up in the Farragut area, I had never witnessed or been around poverty," he noted. "Working with a street-level ministry in Maryville really changed my whole mentality."

His studies and interest also led to a series of religious retreats, including an Anglican one in England before he became ordained as an Anglican priest.

For Floyd, both in his professional and personal life, the key component has become "intentionality."

"If you want to talk about community, you need to stand in and with that community," he said. "It is a real understanding that there will be conflicts, but not to focus on that. Instead, focus on the resolution.

"To be real, you have to endure conflicts, but be willing to find the resolution."

Floyd remains close to his mother, Fran Floyd; his sister, Michelle; and younger brother, Jeremy, who lives in Fox Den with his own family, where the group gathers at least weekly whenever possible.

"It's important to be intentional; and it is what we focus on as a family, too — to be real and connected to each other," Floyd added.