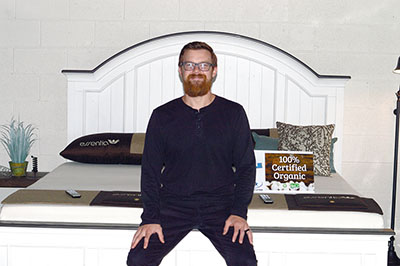 Bed'r Mattress recently added a new store at 10609 Kingston Pike to serve Farragut and nearby residents.

"I love it," store manager Andrew Howard said. "It's been awesome."

Owners Chad Cunningham and Michael Thompson noticed people generally stay in their own pockets of Knox County, and "when we were looking at Zip codes for each of the stores, what we found was for most of the stores, even though Cedar Bluff and the location down by (West Town Mall) are not that far away, you really didn't have any cross-over when it came to (Zip) codes," Howard said.

"We noticed we weren't getting very many people from Farragut (at the West Knoxville stores)," he added. "That got us thinking maybe we need to open a store near Farragut so we could serve it a little bit more.

"Everyone I've seen in here has been (from) a Farragut (Zip) code, so it's nice we're getting to serve people out in this direction now"

The store provides quality mattresses with everything from traditional beds to memory foam, latex, hybrid (traditional with specialty foam technology), cooling features and adjustable beds.

"We don't go into making any of our designs randomly," Howard said. "They are very thoughtfully sourced and very thoughtfully designed … we're going to build the best beds that we can at each price point."

Being a small business, "our product has to stand out," he said. "We're all about helping people with their sleep needs.

"From a technology standpoint, anything that's out there, we have it," the manager added. "We're just about people."

Bed'r Mattress used to only carry corporate brands, but then started to design its own brand, Howard said.

"We were able to offer larger warranties; the prices were better and we just did really, really well with them," he said. "We got to thinking maybe we should expand on that a little bit more."

Bed'r Mattress has four other locations: one by Academy Sports in Cedar Bluff, another on Kingston Pike by Chilies near West Town Mall, along Clinton Highway and in Oak Ridge.

The 10609 Kingston Pike location became available after the landlord made the former Biker Rags store into three units.

Bed'r Mattress is open from 10 a.m. to 6 p.m., Monday through Saturday and closed Sunday.

For more information, visit its website at bed'rmattress.com or call 865-444-3421.