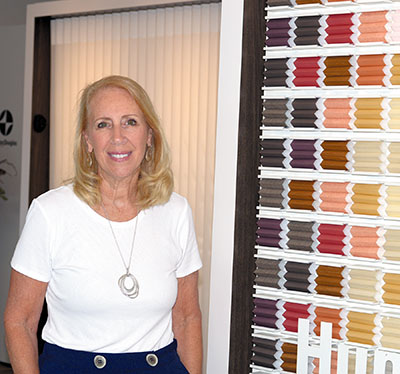 Shutters, Blinds & Tint of Tennessee now offers a showroom gallery at 10607 Kingston Pike, the former Biker Rags location.

"It's been really good for us," owner Jamie Hale said about the new space.

Shutters, Blinds & Tint already had a main office behind the shopping center that housed the former Bikers Rags.

"This is ideal for us to move up to Kingston Pike and have a bigger showroom," Hale said.

She said the business specializes in HunterDouglas products, such as blinds and shades.

"HunterDouglas is a great brand," Hale said. "We've sold them in the 20 years we've been in business.

"They have a great warranty; they're a recognized name brand; they've been in business many years; and we've found they're really good to back up their products," she added.

"We've got some great installers. One of the things we've delved into, as HunterDouglas has, is almost all the products are motorized."

For child safety and for ease of operation, Hale said, "They are growing more in the tech fields of trying to get people to motorize things, especially if you have a bank of windows or higher-up windows."

However, they also have some manual window treatments.

Shutters, Blinds & Tinting also sells motorized and non-motorized screen shades for exterior patios and outdoor spaces.

"It's like turning your patio into a screened-in porch, almost," she said.

"HunterDouglas has always wanted to have a gallery here … where they come, put up their displays, so we had to get a bigger building, "Hale added. "When Biker Rags had a fire a couple years ago, Cliff Helton, our landlord, divided it into three storefronts.

"I said, 'This is ideal for us to be able to move up here on Kingston Pike and have a bigger showroom.' That's what we did."

Hale stressed her business is not a franchise. Rather, it is a vendor.

"We can sell other products besides HunterDouglas" she said. "My husband, Craig, started the business back in 1999 under a different name at his home, and it's kind of evolved over time.

"He passed away three years ago, so he kind of left me with the business," Hale added. "I had been working with him quite a while on it."

The showroom is open from 10 a.m. to 6 p.m., Monday through Friday; from 10 a.m. to 2 p.m., Saturday; and closed Sunday.

For more information, visit tnshutters.com, e-mail to jamhale@tnshutters.com or call 865-588-2408.