Knox Dough doubles space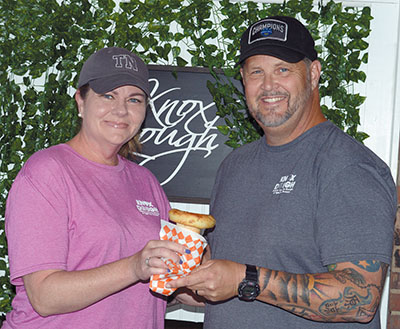 Since Janet and Steve Curtis moved Knox Dough from behind Biker Rags to being in the former Biker Rags location along Kingston Pike in March, it has continued to grow.

"We had talked to the landlord about moving our location from 10551 Kingston Pike to the Biker Rags unit at 10605 Kingston Pike," Janet said. "We wanted a larger space, and with this being Kingston Pike store frontage, that was a huge plus for us."

The new location almost doubled the Curtis' space, provided a larger kitchen and more light, she said.

"We needed a larger kitchen because we make all the cookie dough here," Janet added.

In short, "We love it here," she said. "Business has really picked up. People who didn't know about us, now they see us, and we added our new item, which are the pizza cones, in addition to our dessert items."

Knox Dough specializes in gourmet edible cookie dough, rolled ice cream infused with cookie dough, cookie dough milkshakes and root beer floats.

"We looked everywhere for rolled cookie dough in Powell," 10-year-old customer Lauren Way said.

"The pizza cones originated as a street vendor food from Italy," Janet said. "My husband saw pizza cones on social media. He just did a lot of research and found the right company to purchase our dough balls from."

Janet explained the dough balls go into the machine that forms the cones, which then are baked with a variety of topping offerings, such as gooey mozzarella cheese, on top and layered inside the cone."

The Curtises also added a walk-up window, which will go into effect within the next month.

"We use fresh, high-quality ingredients," Janet said. "With this being a unique specialty store with dessert, we decided we would add pizza.

"That way, if you wanted to get all your food items in one spot, you could do that, too," she added. "Or if you had someone who didn't want dessert, they could get pizza."

Knox Dough started with a tent and a table in 2017, then grew to a food truck a couple months later.

"... Our (Knoxville) business had grown so much … that we just outgrew that spot," Janet said.

The 10605 Kingston Pike store is open from 11 a.m. to 8 p.m., Monday through Thursday; from 11 a.m. to 9 p.m., Friday and Saturday; and from 1 to 8 p.m., Sunday. Delivery also is available through Door Dash and Grub Hub.

For more information, call 865-556-9677.

After Biker Rags suffered a fire in the summer of 2020 and subsequently moved to Clinton Highway, the landlord made the space available for three commercial units, of which Knox Dough occupies one.