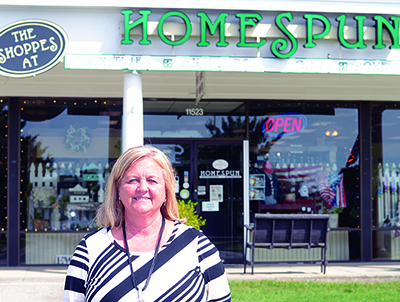 Nestled between Fresh Market and the former Steinmart in Village Green shopping center, The Shoppes at Homespun has endured as a "happy place" for the Farragut community for 30 years.

To mark that milestone, owner Beverly Sellars is celebrating with an anniversary event from 10 a.m. to 6 p.m., Friday and Saturday, June 24-25, and from 1 to 6 p.m., Sunday, June 26, at the shop, 11523 Kingston Pike, featuring a ribbon cutting at 11 a.m., June 24, with food vendors and sales discounts.

Along the storefront, the community can expect to find tents and tables laden with vendors' merchandise, and she is planning craft demonstrations.

"Everything inside and outside will be at least 10 percent off with many vendors offering higher discounts, " Sellars said.

Bunnz food truck will be on hand from 10 a.m. to 3 p.m., Friday, and Snow Daddy's food truck will be at the shop from 10 a.m. to 2 p.m., Saturday.

"We're going to have hidden discounts throughout the store," she added.

Since the 30th anniversary gift traditionally is pearls, "We're going to hide oyster shells with small faux pearls and another prize" inside the shells, Sellars said.

"We have little pieces of paper in the shell telling customers what the prize is. And we'll have door prizes and serve cupcakes each day," she added.

About the business operating for 30 years, "I actually think it's amazing," Sellars said. "As things have come and gone, Homespun has always been a constant. We've always been here.

"I guess the thing I enjoy most is when a customer comes in and is just in awe and says, 'This is my happy place … I love this store," she added.

"That makes me feel really good, really proud."

Another thing Sellars said she enjoys is meeting new vendors.

"They become friends and we become like a family," she said. "We've made some special relationships.

"I truly believe it's due to the loyal customers and the quality of our vendors," Sellars added. "We have vendors who are very talented. I realize without the vendors and the customers, Homespun would not be here."

Currently, the Farragut store has about 60 vendors offering "something different, something new all the time," she said.

It carries a plethora of items: handmade crafts, antiques, unique home decors and artworks, jewelry, clothing and accessories and gift items.

"We have a lot of seasonal decors, and we always have a lot of everyday home decors," Sellars said. "There are some Civil War items. We carry Dixie Belle and Fusion paints, collectibles and lots of vintage and farmhouse decors and primitives."

Sellars is the third owner of the shop, having bought it in May 2009 from the second owner, Gene Wessel. The shop, with its 9,000 square feet housing vendors of antiques and crafts, first opened its doors in 1992.

"After my kids all went to college, I started making jewelry and rented a booth (at Homespun) to sell my jewelry, then I became an employee a couple days a week for about two years," the new owner recalled. "I decided I wanted to open a store like this."

At the time, Sellars thought the idea of starting such as business was too expensive, but Wessel mentioned he wanted to sell Homespun.

"I felt like that was the best opportunity since it was already established," she said. "I had had this store for five years before opening up my second store (at 1410 Sevierville Road) in Maryville.

"I kept having people in Blount County request another store there," Sellars added. "We just thought about it a lot and decided we would give it a try. It's been very good."

The Farragut location is open from 10 a.m. to 6 p.m., Monday through Saturday, and from 1 to 6 p.m., Sunday. For more information, call 865-671-3444, visit www.theshoppesathomespun.com or Facebook.