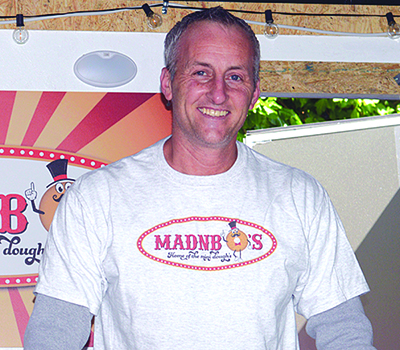 Farragut residents Carl and Kristen Salyards recently have taken their mini doughnut business on the road with a mobile "shop," Madnbo's.

"It's hard to beat a fresh doughnut," Carl said. "It is really a joy to be in the trailer and watch the community come out and eat fresh doughnuts, and it's hard to eat just one.

"We have powdered doughnuts, we have plain doughnuts and we have cinnamon doughnuts," he added.

The Salyards take their food truck to special events, such as weddings, graduation parties and much more.

"I think it's going to be fun to go out there and get to know the community," Kristen said. "It's a fun little business that my husband and I can do together, so I'm excited to get it going."

"We make the doughnuts, and we'll do a bar so people can put their own toppings on them — chocolates, caramel and whipped cream and other different toppings," Carl said.

The business' name is a combination of the Salyards' two children, Madison and Bowen. When not taking their trailer to events, Carl is a full-time service supervisor at Cintas, a uniform company, and Kristen is a nurse practitioner.

"The mobile business will be something we do on weekends," Carl said. "Typically, (special events) don't happen during the day or weekdays.

"We will be able to take care of anybody who has special events going on," he added.

The idea for the business emerged from a "need for something different," Carl said. "We wanted to have something we could offer to the community. You see full-sized doughnuts everywhere — shops on every corner — but you don't see mini doughnuts."

In addition, "there're ice cream trucks; there're food trucks, as far as tacos and barbecue, but there're no doughnut trucks," he added. "As long as we're providing a different alternative for snacks for the community, hopefully we're doing lots of weddings, graduation parties and corporate events."

To have Madnbo's at an event, call or text 865-404-4078 or visit its Facebook page.