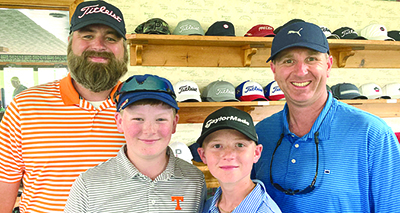 Westgate Christian Fellowship, 416 N. Campbell Station Road, sponsored a Golf Tournament for Convoy of Hope Friday, June 10, raising more than $6,000.

Inaugural WCF Golf Tournament was held at Patriot Hills Golf Club in Jefferson City, with 45 golfers participating. Pastor Mark Steinbach, lead pastor at Westgate Christian, told those at the tournament, "We really want to thank all of the wonderful sponsors that helped make this tournament a success, as well as the golfers, volunteers and Patriot Hills for their help and support."

Bruce Headley, a lead representative for Convoy of Hope, attended the tournament. "Convoy of Hope not only provides disaster relief around the world, but they also provide over 450,000 meals for children, assistance in Ukraine, empowering women as entrepreneurs, teaching better agricultural skills, providing clean water and much more," Headley said. "I invite you to go to www.convoyofhope.org, and see all that this ministry is doing in the U.S., and around the world."

Plans already are under way for the 2023 WCF Golf Tournament, which will be held at one of the Knoxville area golf courses.

For more information about Convoy of Hope, or about the 2023 tournament, contact Steinbach at 865-392-1101.