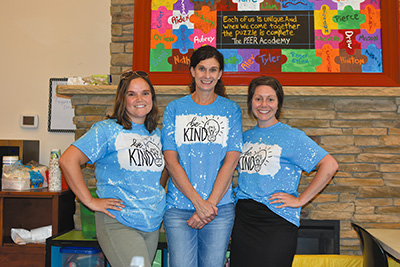 It's not enough for Jessie Ehlers to simply work at PEER Academy — she also is helping fundraise for this unique institution as it seeks a larger location.

Ehlers, who teaches third through fifth grade at the school and is dedicated to educating students who have unique learning styles — including autism — is pledging 15 percent of her sales promoting autism awareness to the fundraising effort for the school, currently located at 10231 Sherill Blvd. in Shepherd of the Hill Lutheran Church.

The Farragut resident has long had a crafty streak, as evidenced by her T-shirt, woodworking and keychain designs through her business with the theme, "It's Elementary by Jessie," which she began while living in Arizona.

"During the pandemic, I really had the time to devote to some projects, and I started making ornaments," Ehlers said. "Then I branched out into T-shirts, and the more I got into it, the more I wanted to buy to help with my designs."

The designs specific to the fundraiser include several styles of "Be Kind" on T-shirts and signage, along with "Proud Autism Mom," also available on signs and shirts. Shirts are $25 to $30, while 5-inch wooden signs are $12 each.

Deidra Messinger, who founded PEER Academy four years ago in the wake of needing a comprehensive school for her own son, Everett, serves as PEER Academy's director.

The school, which serves kindergarten through 12th grade, began meeting in various locations, and has been meeting in Shepherd of the Hill for the last four years.

"We started with five children four years ago and today have 33," Messinger said. "This church has been very welcoming and been a great place for us, but they are growing, too, and we need a different location where we can continue to grow — hopefully by the end of the year."

The school also is accepting new students.

In addition to Ehler's efforts, which can be found on Facebook on the It's Elementary by Jessie page, other fundraisers planned include a yard sale from 8 a.m. to noon Saturday, June 25, at the church; a golf tournament July 23 at Toqua Golf Course in Tellico Village; and a Gala Oct. 7 in Bridgewater Place.

For more information, e-mail Messinger at dmessinger@knoxpeeracademy.org.