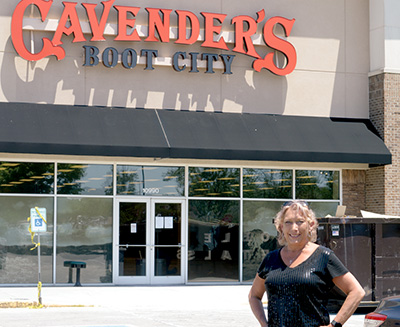 Texas-based company Cavenders Boot City is bringing a Southwest kick to Turkey Creek when it opens its Western store, 10990 Parkside Drive, as its first Tennessee location.

"Our target date is July 15," store manager Kitty Reynolds said. "We're hoping to be a little sooner.

"I'm very excited," she added. "I was an assistant manager in Clear Lake (Galveston County location), Texas, and they offered me this position as store manager — a brand new manager and a brand new store in a brand new state.

"This is our first Cavenders in Tennessee. There're no words to describe how excited I am about it. They put a lot of faith in me."

About the move to Tennessee, Reynolds replied, "They are always looking for a location … They thought this would be the best fit for Cavenders.

"The community, the high volume and there's nothing like us in this area," she added.

"Cavenders isn't just the name of our store; it's also the name of our family," district manager Erik Garza said.

"We're a family-owned and operated retail chain … we carry hardworking Western wear known for high-quality and authentic style because that's the standard in everything we do.

"We believe in the legacy of the American West and we live it every day," he added. "We carry all your favorite Western brands."

Based in Tyler, Texas, Cavenders has been in business since 1965. Started by the late James Cavender and carried on by his sons, Mike, Clay and Joe, the company owns almost 100 stores — all over Texas, Oklahoma, Nevada, Louisiana, Mississippi, Alabama, Georgia and Florida.

"We do have our own brand of boots," Reynolds said. "There's the Cavender brand made by Old Gringo, which is a very high-end brand that they do for us, and then we have our new line, JRC & Sons.

"James Cavender wanted to make his own line of boots," she added. "He started almost four years ago, passed away almost three years ago and his sons picked up where he left off. (JRC & Sons) is really a great boot."

The store also carries boots by Ariat, Justin, Black Jack, Tony Lama, Anderson Bean and more. It also carries jeans and other apparel and accessories for men, women and children.

"We have the Rafter C, which is the men's and boys' collection, and the Rockin' C, which is the women's and girls' collection," Reynolds said.

While the styles are mostly Western, she pointed out the ladies' brand "looks more like a boutique look." In the men's lines, "we also carry collars and button-ups and fishing shirts, things like that."

For workwear, "we also do house accounts, where companies can come in and set up a charge account so their employees can come in and buy the things they need for work," Reynolds said.

Once open, store hours will be from 10 a.m. to 8 p.m., Monday through Friday; from 9 a.m. to 8 p.m., Saturday; and from 11 a.m. to 6 p.m. Sunday.

Merchandise may be ordered online at cavenders.com.