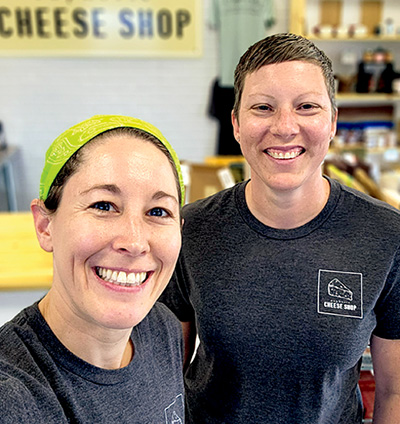 Town staff is gearing up for 34th Annual Farragut Independence Day Parade, which kicks off at 9:30 a.m., Monday, July 4, from Farragut High School's junior parking lot.

Entrants, capped at 95 "with a waiting list," said Town Park and Rec director Sue Stuhl, will route down Lendon Welch Way/Stadium Drive, to Kingston Pike, then travel west to Boring Road, exiting into the "old" Ingles parking lot.

Parade entries include the Town of Farragut, with Parade Grand Marshals Cheri Intveld and Amy Burritt, owners of Euphoric Cheese Shop (photo on the right), the Town's Board of Mayor and Aldermen and the Farragut Museum's float, which will include current U.S.S. Farragut sailors, according to organizers.

Additionally, politicians, Farragut High School Marching Admirals, Farragut West Knox Chamber of Commerce, Smoky Mountain Blue Star Mothers, Studio Bliss, Chick-fil-A (both Overlook & Turkey Creek locations), Dance Studio West, Mayberry Chapter of the Andy Griffith Show Rerun Watchers Club, Send Senior Citizens Love, Sir Goony's Family Fun Center, The Little Gym of West Knoxville-Farragut, Pelican's SnoBalls and Honeybee Coffee and Brewery are among the many entries.

The senior/teacher lot (circle) and the Farragut Middle School lots are for parade participants to park or drop off.

Due to the Independence Day Parade, Kingston Pike from Lendon Welch Way to Federal Boulevard will be closed from 8:30 a.m. to about noon.

Options for parade detours are as follows: North side — Campbell Station Road to Grigsby Chapel Road to Smith Road to Kingston Pike (going west) or Campbell Station Road to Parkside Drive to Lovell Road (going east).

South side — Concord Road to Turkey Creek Road to Virtue Road to Kingston Pike.

For more information, call Farragut Parks & Recreation Department at 865-218-3376 or visit farragutparksandrec.org/parade.

Freedom Run

Fleet Feet Sports Knoxville will host Fifth Annual Farragut Freedom Run 1 Mile & 2 Mile prior to the start of the parade. This flat and fast course is USATF-certified and accomodates all levels of running skill. Register at runsignup.com/farragutfreedomrun.

Campbell Station Road from Kingston Pike to Brooklawn Boulevard and Municipal Center Drive will be closed from 8:30 to 9:15 a.m. due to the Freedom Run course.