Town requests $25,000 grant, social media photos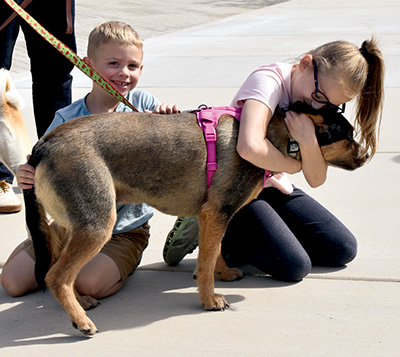 Farragut is hoping for a dog park, and is looking to the community for help.

Town staff already has applied for a $25,000 grant through The Boyd Foundation's Dog Park Dash, and the Town currently is in the required community engagement phase of the application process through Thursday, June 30.

According to Town social media posts, "dog owners are asked to follow Town of Farragut on Facebook, Instagram and Twitter, then upload pictures of their pets using the hashtag #DogParkDash2022, and mention #Farragut."

"The community engagement phase is where your community gets loud and proud over your application," Dog Park Dash's website stated.

Town officials incorporated the request Saturday, June 11, during Phase III Grand Opening festivities at McFee Park, where land already has been set aside for an eventual dog park.

About a dozen pets and their owners took part in a "doggie flash mob" recorded by drones, which has been added to the application requirement.

Additionally, members of the community also can visit www.dogparkdash.com/apply to nominate Farragut outright as part of the process, Town Parks manager Lauren Cox added.

The Boyd Foundation began offering Dog Park grants in 2018 and has announced this will be the last year of the program after reaching its 100-park funding goal.

This year's' award recipients will be announced July 20.