Softball, baseball teams, tennis singles No. 1 recognized at BOMA meeting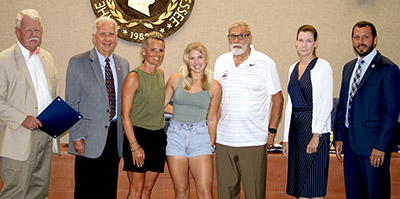 During Farragut Board of Mayor and Aldermen meeting Thursday evening, June 23, Alderman Drew Burnette read a Proclamation honoring Farragut High School baseball and softball TSSAA Division I-4A state championship teams, plus Division I-AA singles tennis champion Riley Cassity, proclaiming Friday, June 24, as "Sports Celebration Day" in the Town.

"I'm excited tonight to get to honor some guys and gals," Burnette said, as members of both teams and Cassity were on hand during the ceremony.

"From the baseball side, Jaxson Pease and Lukas Buckner were recently selected All-State from the Tennessee (Baseball) Coaches Association," the alderman said. "The All-Prep Baseball First Team had Lukas Buckner and Landis Davila, and the Second Team was Jett Johnston, Jaxson Pease and Mark Underwood.

"From the softball side, two Lady Admirals also were recognized at the Knox News Prep-Xtra Awards ceremony: Lauren Brakovec was selected Softball Player of the Year and Avery Flatford received the Courage Award," Burnette said, adding the All-Prep--Xtra Softball First Team honored Flatford, a pitcher, Brakovec and shortstop Ava Guzowski.

The Second Team included centerfielder Sarah Livingston and catcher Autumn Caywood.

In tennis, "Riley Cassity went undefeated in the postseason to win the girls singles district, region and state championships," the alderman said about the Lady Admirals' rising junior.