Parham close to FIS on two levels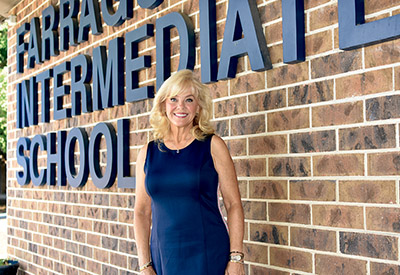 Suzanne Parham is Farragut Intermediate School's new principal, but she is no stranger to the Town she has called home since 1992.

Both her daughters, Grace and Hope Whitaker, graduated from Farragut High School, and she and her husband, Ben Parham, live in a subdivision nearby her new workplace.

Parham already has been working closely with retiring FIS principal Deborah Adorante this summer, even though Parham's official "First Day" isn't until July 1.

"I'm so excited to be working here now, and being able to give back to my community," said Parham, who most recently worked for Knox County Schools as assistant principal at Karns Elementary. "My friends and family are all here, and it's just an honor for me to be able to come to work here.

"It has been terrific being able to work together to make the transition a smooth one," she added. "Most people don't have this opportunity, and to be able to work together like this has been wonderful."

She also has had the chance to weigh in on new hires for the coming year.

"The teachers here already are phenomenal, and being able to hire new teachers is one of the most important decisions I make as principal," she said.

"If you have the right person, everything else falls into place."

Born in Virginia, the daughter of an Air Force general, Parham moved around a lot due to her father's assignments. She graduated from Florida State University with a bachelor's degree in communications, and went on to obtain a master's degree in elementary education from the University of Tennessee, an Educational Specialist degree in Curriculum and Instruction from Lincoln Memorial University and an Educational Specialist degree in Educational Leadership and Administration from UT.

Parham has been with Knox County Schools since 2010, beginning as a reading intervention teacher at Inskip Elementary. She moved up through the ranks and also has served as assistant principal at Northshore Elementary and Lonsdale Elementary.

She isn't the only new face at FIS this fall: Kristy Johnson will be a new assistant principal since former assistant principal Stacy Hilliard has been moved to Northshore. Assistant principal Amy Schumpert remains at FIS.

A "Meet and Greet" for administrators is set for Friday, July 29, with pre-set time frames for each grade level. Food trucks vendors, also part of the festivities, have agreed to donate 10 percent of the evening's proceeds to the school to use for security upgrades.

"I am so ready to welcome our teachers, students, their parents and the community," Parham said. "I'm like a racehorse at the gate — I'm ready to go."

In her spare time, Parham enjoys spending time with family, and is very much an outdoors enthusiast, enjoying biking, hiking and kayaking.