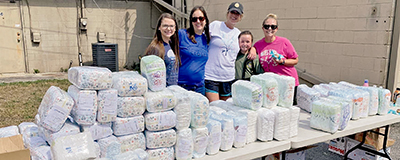 Compassion Closet in Farragut hosted a successful first-ever "Babies and Buns" event Saturday, June 25, giving away free diapers and complementary cinnamon buns to anyone in need.

Co-founder and Farragut director Melissa Cox said the event was a joint effort with Destiny Adoption Agency, which provided 5,000 diapers, while Compassion Closet provided the volunteers and location, 11020 Kingston Pike.

"We had newborn up to size 6 diapers, and a good steady flow of people," Cox said. "It was a really nice drive-through event, and we are hoping it is something we can do quarterly.

"It was really nice after the last two years of COVID concerns, then the formula shortages this year to be able to offer struggling parents some hope," she added.

Compassion Closet, which has additional locations in Oak Ridge, Campbell County, Northwest Knoxville and Seymour, helps fill in the gap of physical needs for foster families by providing clothing, supplies, furniture and other items free of charge to children ages newborn to 18.

The organization also is gearing up for its fifth annual "Fostering Hope" back to school supply giveaway from 3 to 5 p.m., Saturday, July 31.

Each child attending is encouraged to bring his or her school supply list for the 2022-23 school year.

"We want to help take the burdens off of these families," Cox said. "It is really important to us to make sure it is a personalized event, and we provide volunteers to work with each child to make sure they can get what they need on their lists.

"It is great when other organizations give out school supplies, but we want to make sure the kids actually get what they are required to have in the coming year," she added. "We also hold it over tax free weekend, so if we don't have everything they need, they can go buy what we don't have."

Cox said donations to help fully stock the needed school supplies are welcomed, with the needs including: backpacks, pencils, colored pencils, markers, dry erase markers, Band Aids, hand sanitizer, highlighters composition notebooks, binder paper, binders, pencil boxes and spiral notebooks.

Anyone wishing to donate to or volunteer for the event may e-mail Cox at melissa@compasioncloset.com.