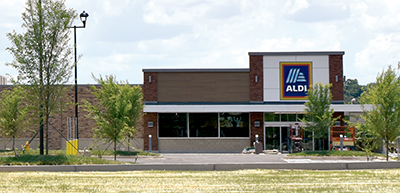 ALDI grocery store, the first retail business built in Farragut's Bidddle Farms Town Center, has announced its grand opening from 9 a.m. to 8 p.m., Thursday, July 14, at 170 Brooklawn St. at the former old Kroger location.

"We've proudly served Tennessee residents for nearly 28 years and are excited to provide Farragut residents an improved shopping experience at our first Farragut ALDI store," said Amy Peters, Mt. Juliet regional vice president for ALDI.

"We love that our new stores are motivating people to try ALDI products and see for themselves how we offer the best foods and everyday items at great prices while making shopping easy," she added.

To celebrate, it will host a ribbon cutting ceremony at 8:30 a.m. right before opening, and will give shoppers the chance to win a $500 gift card.

"The new location is part of the company's aggressive nationwide growth in recent years," a company press release stated. "ALDI is on track to open 150 new stores and become the third-largest U.S. grocery retailer by store count by the end of this year.

"The ALDI business model is intentionally different, and the result is a fast and affordable shopping experience," the release further stated.

"ALDI fans across the country rave about the company's award-winning and exclusive brands and weekly lineup of limited-time ALDI finds."

"Local shoppers can experience the ALDI difference themselves when the new Farragut store opens

"ALDI sells mostly exclusive brands made by the best partners," the press release said. "Farragut shoppers will find food for every taste and lifestyle (gluten-free, plant-based, dairy alternatives, etc.) along with an unbeatable cheese and wine selection.

"Shoppers will also discover weekly offerings of limited-time ALDI Finds like candles, delicious seasonal food, home goods and more.

"ALDI is so confident in its products, such as its fresh, organic produce delivered daily, that every item is backed by its Twice as Nice Guarantee," according to the release. "If for any reason a customer is not 100 percent satisfied with the quality of a product, ALDI will gladly replace the product AND refund it.

"The savings start before customers enter the store," the release said. "Depositing a quarter to unlock a shopping cart is one way ALDI saves shoppers money. ALDI doesn't need to hire employees to corral loose carts, and customers get their quarter back when they return the cart.

The store also offers online shopping and curbside pickup.

"Customers want convenient shopping options, which is why nearly all ALDI locations offer grocery delivery, and curbside grocery pickup is expanding to 1,500 stores by the end of 2022.

The store's hours are from 9 am. to 8 p.m. Visit shop.aldi.us to place an order.