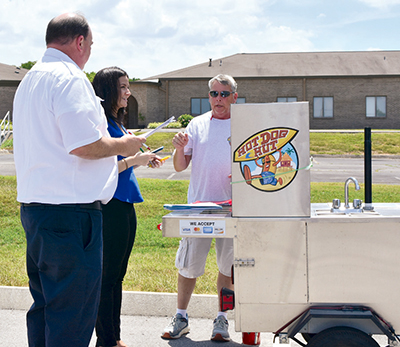 Once prohibited entirely, mobile food vendors are getting more opportunities to share their wares in Farragut.

Within the last few years, Town staff and elected officials have worked on various ordinance changes, which now expands the special events where food truck are allowed, including: invitations from Town homeowners associations, any Town-approved special event, invitations from non-profits and tournaments/private park/pavilion rentals held within the Town.

"The businesses, non-profits, HOAs and other organizations still need to get a permit from the Town for their special events," said Trevor Hobbs, assistant to the Town administrator and business liaison. "But the food trucks don't have to get a separate permit, as they had to previously.

"We hope that this simplified permitting process will allow mobile food unit operators to spend less time applying for permits, and more time selling their food, drinks and treats in the community," he added.

Also new is a flat $100 annual permit fee for mobile food vendors, instead of the previous $25 per day permit fee.

Hobbs outlined the changes during an informational meeting Tuesday, June 28, in Farragut Community Center, attended by about eight vendors, Town Fire Marshall Dan Johnson and other Town staff.

"The permit itself is pretty straightforward," Hobbs said. "It is $100 and will be valid until the last day of the month it is issued, one year from that point."

Vendors also will be required to schedule an inspection, with the fire marshal as part of the process.

"We will be keeping track and keeping a list of approved food vendors," Hobbs added. "Anybody who wants to schedule a special event, we will be able to give them that list, so hopefully you will be able to get some extra business from having the permit."

Hobbs mentioned a variety of options where mobile food vendors might be utilized.

"At our parks, some pavilions can be rented, and a renter might hire a food truck as a private caterer," he said. "We also have tournaments, at some of our parks, where a food truck could be the vendor for the event; that's another opportunity," Hobbs added.

He also mentioned 35 North, which opened in 2020 at the corner of North Campbell Station Road and Kingston Pike.

"Additionally, 35 North, they use food trucks as their kitchen, so with this permit, all they have to do is get you on the schedule and you are good to go," Hobbs said.

"What about going through neighborhoods, like old fashioned ice cream trucks used to do?" asked Ingrid Adolphson, Farragut resident and owner of Kona Ice of West Knoxville.

"Not at this time," Hobbs said. "As of right now, the opportunities for mobile food truck units to operate is limited to a Town-approved special event."

For more information, contact the Town Community Development department at 865-675-2384 or the business liaison at 865-966-7057.

Other opportunities

Kathryne Ogrod, who owns The Kitchen Link, also addressed the group. Already offering a variety of food truck events in and around the region, including First Friday Food downtown Knoxville, Market Square, her company will be hosting Farragut Food Truck Freedom event from 4 to 9 p.m. Aug. 20 at Mayor McGill Plaza.

Free to food truck vendors, the event will charge $12 per person to sample the various vendors.

"We are here to support you guys," Ogrod told the group.

For more information, visit joinkitchenlink.com.

Overall, mobile food trucks have become a big business throughout the area.

Dale Akins, owner, founder and president of The Chef's Workshop, has presented food truck rallies in Choto every Thursday evening at the Davis Family Y, since the 2020 pandemic.

July 7 offerings includes MiMa's, Kennedy Grill, 865 Swine, Blank Slate and Pelican's Snowballs.

Atkins expanded on the idea with "Rally in the Valley" in Hardin Valley earlier this year, every Wednesday evening at Hardin Valley Academy, and Akins also oversees similar events in Seymour, Oak Ridge dam Clinton.

During the summer months, organizers have included a "swamp cooler" to help air condition the tents.

Visit thechefsworkhop.com for more information and specific food truck line ups.

There are also permanent food truck parks locally in Central Filling Station in Downtown Knoxville, in Southside Garage in south Knoxville, and in the communities of Powell and Karns, among other locations.