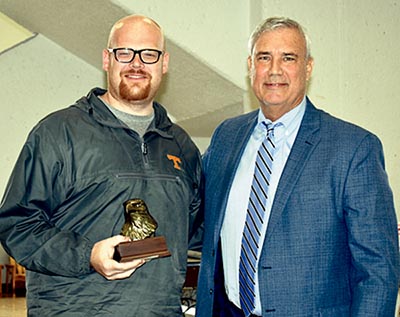 Ben Collins, Farragut High School social studies teacher and assistant athletic director, joined an elite group when he received the 2022 Tyler Duke Outstanding Educator Award from Tyler's parents, Stan and Lisa Duke, during the school's annual Teacher Awards Luncheon May 26.

In memory and in honor of 2006 Farragut High School graduate Tyler Duke — who passed away in 2009 while a senior at the University of Tennessee, Knoxville — the Outstanding Educator Award from the Duke Family, which continues to support activities that were important to Tyler, including missions, academics and FHS baseball.

"It has been very important for us, to recognize teachers ...," Stan Duke said in a separate interview.

Farragut High School Education Foundation helps facilitate the award, while principal Dr. John Bartlett selected Collins as this year's recipient. "Dr. Bartlett knows his teachers and knows who stands out who might not always get recognition," Duke said.

"Mr. Collins does not just teach, he believes in — and is deeply invested in — his students," stated Collins' nomination information provided by the Foundation.

Collins, who received $1,500. joins previous teacher recipients including Elizabeth Blankenship, Lea McMahon, Rachel Reyes, Aundrea Mitchell, Debbie Fraser, Brenda McGrath, Kristi Ramsey, Jen Stansberry, Geoffrey Steadman, Sherry Fischbach, Allen Underwood, Holly Kelly and Shasta Todd.

The Duke family also gives an annual "Complete Game Award" and $500 scholarship to a graduating FHS baseball player, this year earned by 2022 grad Guy Roberts, who was selected by his head coach, Matt Buckner. A $2,000 endowment scholarship also goes to a UT undergrad rising senior in pre-pharmacy, in the Biochemistry, Cellular and Molecular Biology Department, where Tyler studied; and a $5,000 endowed scholarship goes to an incoming first-year student at Belmont University's College of Pharmacy, where Tyler had been accepted as a student.