Massage spa focuses on wellness for men, women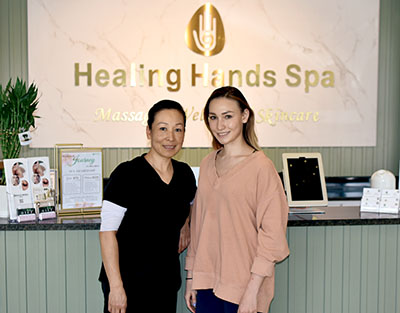 Sharon Zhou wants only the best for her customers.

A native of China, Zhou recently opened her second Healing Hands Spa — 10935 Kingston Pike in Stonecrest Shopping Center — offering quality spa services to both men and women.

"For us it is not just about massage, but about wellness," she said. "We strive to do our best to cater to the needs of each individual client. When our clients feel relief, it will allow them to do more of the things they love."

The Farragut location opened about a month ago, encompassing seven suites. Zhou employs 10 licensed therapists and three aestheticians, including her daughter, Edie Weidley.

Zhou has been in the United States for nine years, and became a licensed massage therapist in 2015. She previously worked for a nearby spa, but began to realize beauty and wellness treatments she had known in China were ones she wanted to provide state-side.

"With the combination of both Chinese and American methods of massage therapy, I truly believe my skills and knowledge can cater to the needs of our client," she said.

Services are wide-ranging, from a variety of massage styles (hot stone, chair and couples for example), to facials, bio-electric therapy, foot treatments, derma planing, microblading, cupping, waxing, eyelash extensions and body scrubs.

Bio-electric therapy, used in tandem with massage, helps stimulate muscle and nerve tissue, promoting healthy blood circulation. It also is recommended for relieving pain.

"Massage alone does not increase blood flow," Zhou said. "The machines are easy to operate, and they do all the work."

Healing Hands Spa offers a variety of pain relief products available for purchase, including a virtually scent-fee pain reliever roller, manufactured in China. "It is all herbal, and all natural, and can be used for all kinds of pain, including headaches," Zhou said.

She has spared no expense. Each massage table is an electronic "power table," allowing more comfort to both the massage therapist and the client by providing easier range of motion for both.

"A lot of spas don't want to make the investment, but all of our tables are like this one," she added, pointing to one of nine located among seven private suites — including two suites for couples' treatments.

Healing Hands Spa also is an authorized Glommed Plus Spa, providing an array of facial treatments, some of which may include light therapy, providing different levels of renovation and care.

Rounding out each service is soft lighting, relaxing music and essential oil/aromatherapy.

"I want this to be place of escape, where our clients can feel calm and be pampered," said Zhou said, who has been operating Healing Hands Spa in the Cedar Bluff community for four years, but had grown so much, she needed more room.

"During our Valentine's Special we had 57 clients," she said. "We only have 1,500 square feet there, and realized we needed to open a second location."

Her husband and business partner, Steve Weidley, discovered just the place in the Stonecrest shopping center, and they began renovations earlier this year.

"It had been a spa before," Zhou said. "We didn't have a lot of work to put in to get it open."

The business has a social media presence on Facebook, among other platforms, as it continues building its clientele. "We have been able to help so many clients already," Zhou said.

For more information, visit knoxvillemassagespas.com or call 865-671-3200.