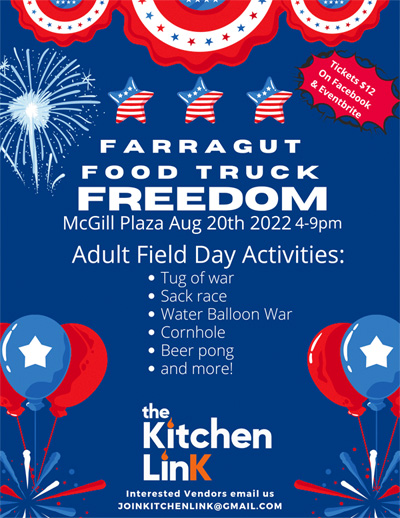 The Kitchen LinK, a restaurant association dedicated to creating local marketing, networking and events for businesses in the food industry, recently announced the creation of Farragut Food Truck Freedom event, which will take place from 4 to 9 p.m., Saturday, Aug 20, in Mayor Ralph McGill Plaza in Farragut, to celebrate what is described as a new "pro-business" policy, according to a Kitchen LinK press release. T

he event "is free for Food Trucks to attend.

"The past regulation stated that food trucks would be required to pay $25 per day and must also be inspected each day of operation by the Farragut fire marshal," the release further stated. "The new regulation states that a food truck permit will cost $100 annually with only one inspection by the fire marshal.

"… There will be an adult field day theme to go along with the event. Tug of war, water balloon wars, sack races, a dunk tank, beer pong and cornhole are just a few of the activities that will be provided."

Tickets "will go on sale soon on Facebook and Eventbrite," the release stated. Facebook event page: https://facebook.com/events/s/food-truck-freedom-in-farragut/2837234696581835/

Local vendors and food trucks should contact The Kitchen LinK to sign up at joinkitchenlink@gmail.com.