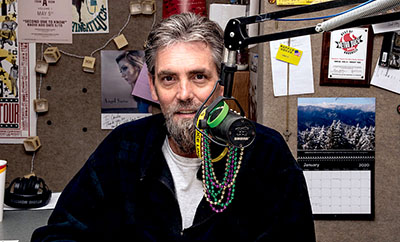 The local musical scene and community at large lost a true friend when WFIV-FM 105.3 operations manager Joe Stutler passed away Tuesday, July 12.

"It's still hard to believe," said Mr. Stutler's supervisor, Tony Cox, chief manager of Horne Radio, LLC. "We are a small radio company. Losing Joe is like losing a family member.

"We're going to miss him greatly."

The 53-year-old Illinois native had worked for the radio station since 2009, and was described by Cox as "a consummate promoter of the Knoxville music scene.

"He played local music in normal rotation and was always happy to speak to local and regional artists about how to 'be noticed' and get their music on radio stations in other markets," he added.

"Joe was respected in the radio industry as being someone who had a keen ear for music. As our program director, many record label representatives and promoters would call him and ask his opinion on music."

Lisa Stutler, Joe's devoted wife of 26 years, said music and identifying up-and-coming artists was her husband's true calling.

"He really just loved to support local music and trying to find new and unique ways to do that," she said.

"He listened to new CDs and could tell immediately if anything on it was worth playing," Lisa added. "Joe was one of the first to play Adele, before anyone else was, and he was an early fan and promoter of Los Lonely Boys, among many others."

Joe was "always looking for ways to promote the music scene, from hosting the Preservation Pub Singer/Songwriter Series to the three 'Homegrown for the Holidays' Christmas CDs he did — using only local artists," Lisa said.

Many of Joe's outreach projects were to benefit local charities or projects. Proceeds from "Homegrown for the Holidays" CD sales went to both Knoxville Area Rescue Ministries and The Ronald McDonald House. The latter charity Joe also supported by sitting on its roof at one point to highlight the need for a new one.

"He was not coming down until they got a new roof," Lisa said with a smile.

"Everything he did, he did for charity," she added. "He loved coming up with new and different ideas."

Joe also was well-known and admired for his interviewing skills.

"He had many people say Joe's were the best interviews they ever did," Lisa said, naming among them interviews conducted at the Bonnaroo Music and Arts Festival in Manchester.

The couple's daughter, Paige, inherited her father's extensive love for music and was thrilled to share his enthusiasm, Lisa said, noting she attended many concerts through his connections.

"As much as he loved concerts and music, though, he really loved his family and loved being at home," she added.

Lisa said Joe's love for the radio industry and music in general began before they even met.

"His dad tried to talk him out of it, told him he would never do well, but Joe just loved it — it was all he ever wanted to do," she said.

Undeterred, Joe got his start in the Chicago area as a DJ and interviewer.

He moved with Lisa, Paige and their son, Garrett, to Knoxville in 2000, where his parents already were residing.

On the verge of quitting the industry entirely, he asked Lisa for "just two weeks" to find a radio job in Knoxville.

"He nailed his very first interview," she said proudly, adding his first job locally was as an on-air radio personality at WOKI-FM, where he remained even after it changed hands and became The River 100.3.

"He really loved Knoxville and what this market allowed him to do."

Joe seemed to have found his true calling at 105.3, where he became "the heart of WFIV's AAA/Americana Format," Cox said, as Joe remained fiercely dedicated to his job, even after WFIV changed formats two years ago.

Joe was always willing to help behind the scenes as well.

Farragut Tourism manager Karen Tindal recounted working with Joe on several projects.

"Tony introduced me to Joe when I started to work on the first Farragut Songwriters Showcase (in 2018) and really didn't know where to begin," Tindal said. "When I met with Joe, it was very clear that he was a music guy and had a passion for making Farragut a great community.

"He offered a lot of advice about how to make a showcase successful and started to educate and introduce me to music people in the area that could help me with the event.

"Joe was also very interested in the Visit (Farragut) program and offered monthly recorded interviews about what was happening in Farragut," Tindal added. "I had no experience with radio, but Joe was an excellent interviewer and would spend the time helping me prepare and then edit the segments before airing.

"We did interviews on all of the major Town events like Freaky Friday Fright Night, Lawn Chair Concerts and, of course, Light the Park. He was generous of his time and so supportive of the brand new tourism program. When COVID came along in 2020, Joe helped me by recording off of our advertising scripts for our 'Doors are Opening' campaign, and we kept in touch through e-mail and phone calls.

"I will always remember Joe's passion for independent radio, his love of all music, especially new artists, and his willingness to support all things Farragut. I can close my eyes and see Joe in the small basement studio at WFIV behind the microphone, doing what he loved."

There is no service scheduled as of press deadline.