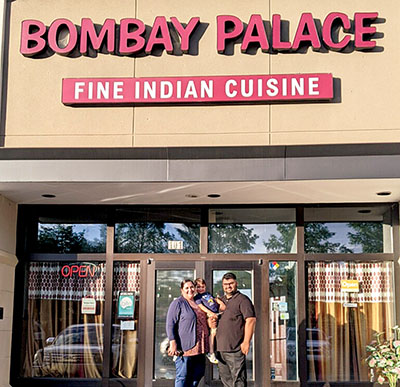 Bombay Palace, 10901 Parkside Drive, has new owners: Nikhil Bagga, along with wife, Jill Bagga, the restaurant's administrative organizer.

"For now, it's all going to be kept the same," Jill said about the restaurant they bought in May, adding they are looking to renovate the restaurant's interior some time in the future.

Customers are finding the same menu favorites: chicken tikka masala, one of the main signature dishes of India; a wide variety of vegetarian selections; tandoori grilled meats; samosa, a savory pastry stuffed with slow-cooked potato, peas and onions wrapped in the puff pastry, deep-fried and served with a sweet tamarind sauce; and phali, a sample of entrée dishes.

"We have a vegetarian phali and a non-veg phali," Jill said. "It's a way where people can try a couple of different entrée options all together in one."

The vegetarian phali features sag paneer, chana masala, vegetable korma. Meanwhile, the non-vegetarian phali features chicken or a lamb phali, and the samplers that can accompany it are dal turka, a slow-cooked lentil dish with ginger, garlic, cilantro and onions; vegetable korma; chicken tikka masala; or boti (lamb) tikka masala.

"My personal favorite signature dishes I tried after we bought (Bombay) were the lamb bhuna and the gobi (cauliflower) chili, an appetizer," Jill said, explaining gobi chili is a deep-fried cauliflower tossed in a sweet-and-salty red chili sauce.

Although Indian food has a reputation of being spicy, Jill pointed out "at our restaurant you can control how hot or mild the food is."

As for the couple themselves, "Our whole background is food, beverage and hospitality before we moved to Knoxville in 2017," she said. "Nik's really excited about it.

"My husband is from Punjab, India, so there's a connection to why we bought an Indian restaurant," Jill added.

Hours are from 11 a.m. to 2:30 p.m. and from 4:30 to 9:30 p.m., Mondays and Wednesdays through Sundays, but closed Tuesdays. Place to-go orders via its website at www.bombaypalaceknoxville.com; through the food delivery services, such as Grub Hub, Door Dash, Bite Squad and Uber Eats; or call 865-671-6667.