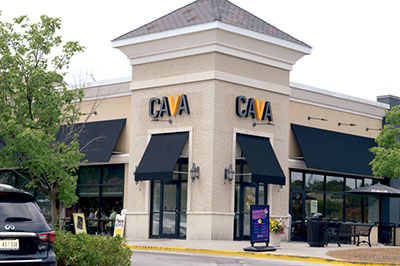 A new restaurant gives a Mediterranean flavor to Turkey Creek.

CAVA, 11378 Parkside Drive, opened June 3. "It is a fast, casual restaurant that serves a fully customizable menu of well-sourced and nutrition-forward ingredients prepared in-house daily," said Jessica Rodriguez, a spokesperson for CAVA.

"CAVA serves vibrant, flavorful Mediterranean food that guests feel good about eating every day," she added. "Its menu includes customizable, curated bowls and pitas featuring flavor-packed ingredients, sometimes in unexpected combinations, like our lemon chicken bowl with preserved lemon vinaigrette."

Customers start with a base: a salad with "SuperGreens," arugula, spinach, romaine or "SplendidGreens;" a mix of greens and grains; a mini pita; grain bowl with saffron basmati rice, brown basmati rice, rice, black lentils or "RightRice" (a high protein and high-fiber grain made from 90 percent vegetables, such as lentils, chickpeas and peas) or pita bread.

It follows with dips and spreads plus a protein — falafel spicy lamb meatballs, harissa honey chicken, grilled chicken, grilled meatballs or braised lamb — and roasted vegetables, toppings and dressing.

The Parkside Drive location is the second in Knox County, with the other at 6638 Kingston Pike.

A national brand, CAVA is based in Washington, D.C., with more than 200 locations and growing.

CAVA is open from 10:45 a.m. to 10 p.m., seven days a week.

For more information, visit www.CAVA.com or call 865-288-9905.