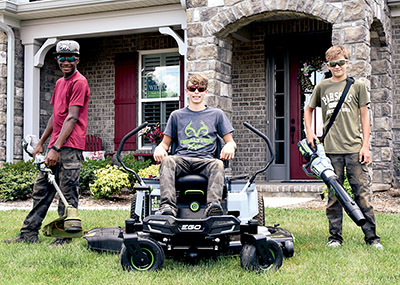 Not yet legally able to drive, three Kingsgate brothers have started their own lawn care business in Farragut.

Joe, Landon and Shae Parsons — ages 14, 13 and 15 respectively — actually began mowing yards within their neighborhood four years ago, but earlier this year they incorporated as Clean Green Lawn Pros LLC, after converting to all-electric equipment.

"In the past they were just a few kids mowing lawns, but now they have an LLC," remarked their father, Matthew Parsons, a Realtor who helps out with their transportation needs when necessary.

Joe has been the driving force of what is now Clean Green Lawn Pros. In 2018 — the year Joe turned 11 — Matthew asked his sons what their goals were.

"I told him I wanted to make $1,000," Joe recalled. "So Dad taught me how to mow and weed whack, and I started mowing."

"My goal was not to do it for him," said Matthew, who also has four older children with his wife, Janice. "Really, it was all on him."

"I started getting jobs, and asked Landon and Shae if they wanted to join me," Joe added.

"People started donating equipment to them, which they started using, too," Matthew said.

At first they had two push mowers, and their father was driving them to different job sites. But once they were able to save enough money to secure a riding mower, they also could use it to reach their customers, especially since most of their initial clientele was located within their own neighborhood.

Adding a work cart, which could be pulled by the mower, helped transport equipment, too.

"They were able to go from house to house to house," Matthew said. World of mouth and social media quickly built their business, and they have been working on updating and changing their model.

An injury for Shea, who broke his thumb in May and was unable to work, pointed the brothers in a different direction.

"He had zero money because he couldn't do his part, so they started thinking about what it might look like to own a business with employees, where they could get paid, even if they couldn't work," Matthew said.

Armed with new electrical equipment, "which has no air or noise pollution," Landon said, along with insurance and the LLC — which was official as of July 1 — the brothers branched out into nearby Brookmere earlier this year.

Moreover, Brookmere now has a connector road into Kingsgate.

"Part of our goal is to be using solar panels to power our equipment and have three crews by the end of 2024," Landon said.

While their goal is to mow 200 lawns a month, the trio are now in a position to take on new clientele. Clean Green also will spread mulch and rake — and even remove snow.

For more information, visit cleangreenlawnpros.com or call 865-730-0404.