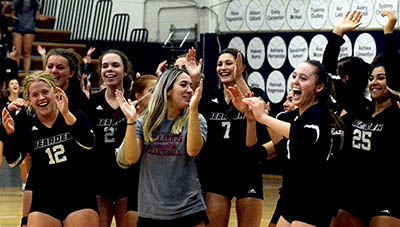 Kaity Davidson got a wonderful birthday present Thursday evening, Sept. 1, courtesy of her Bearden High School volleyball team.

Watching her Lady Bulldogs' post-match celebration, it seemed more like happiness after hitting the jackpot. They doused the birthday girl with a blindside liquid surprise.

Davidson and Farragut head coach Jo Madden may have turned a year older Sept. 1 — yes, they have the same birthday — but the real age factor was Bearden's experience advantage, which BHS used to beat rival Farragut for the first time in any of the current players' careers.

Rallying from a 2-1 game deficit — all three games exciting decisions by two points — the Lady Bulldogs pulled away in the fourth game, 25-20, and in the deciding game, 15-8, to set off the celebration inside FHS's Lynn E. Sexton Gymnasium.

"This is huge; my girls have been trying to mentally prepare for this," Davidson said.

"I have a group full of seniors who decided to take charge, and they really stepped up," she added.

While Bearden improved to 5-2 overall, 2-1 in District 4-AAA after the victory, a young Farragut team fell to 3-5, 0-3.

Individually, Davidson singled out senior middle hitter Alyssa Campbell. "She was amazing; she stepped up when her team really needed her," the coach said.

Campbell led the Lady Bulldogs with 16 kills and seven blocks. Anne Claire Myers, junior middle hitter, and Alina Turowski, senior middle hitter, each had 12 kills for BHS.

"It's so exciting," Campbell said. "I think our key was staying calm throughout the (match) and really focusing on what was working for us, and not so focused on our errors."

"And really keeping our energy high," she added.

"To be able to come out here and take a win against the Ads, especially on our coach's birthday — and for it to be our senior year and finally get a win — it feels invigorating, exhilerating and exciting," said Meghan Oros, senior defensive specialist.

As for keys to the victory, "One of our biggest keys is our energy," she added.

"We really are a family. We took that win for each other."

Three Lady Admirals stood out statistically.

Elsa Morrison, sophomore outside hitter, finished with 22 kills and 17 digs; Mackenzie Turner, senior middle hitter, ended with 15 kills, six blocks and four aces; and Victoria McNair, sophomore setter, had 37 assists, eight kills and four aces.

Madden said experience "definitely was a factor; they have eight or nine seniors. ... We had only one senior who played, and three freshmen."

Individually, "Elsa stood out, she helped us out a lot, along with 'Mac' (Turner)," the FHS skipper said.