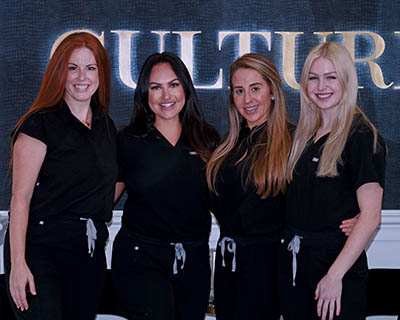 Culture Aesthetics & Wellness recently "popped up" to open a spa offering a multitude of medical aesthetic services in Admiral Point, 116 Concord Road, Suite 100.

Partners Erica Oakes, nurse injector; Leila Beyer, office manager; Dr. Michael Fields, surgeon of Fields Center for Women's Health and Robotics Surgery; and Dr. Paul McCurry, anesthesiologist, teamed up to open the spa July 18, then held its grand opening Thursday, Aug. 18.

The spa provides derma filler; neurotoxin injections, such as Botox; a variety of skincare procedures, such as chemical peels and micro needling; a multitude of different laser procedures, such as hair removal, skin resurfacing and body contouring; functional wellness; and hormone replacement.

"We're in the process of opening a one-of-a-kind full medical aesthetics and women's health practice (in Knox County)," Oakes said. "Right now, (Fields) has his practice in Tennova, so we created this pop-up location, which is why we chose this location in Farragut.

"This is like a taste of what's to come with the new building," which will still be in the West Knoxville area, she said. "It's going to be a much larger location that can house Fields Women's Center and Culture Med Spa together.

Once the new office is built, "there is still a possibility we will still have a pop-up location open, but the idea for the big space is we want to be one of a kind in this area because we're looking for not just the medical aesthetics, but a look-good-feel-good,wholesome, whole wellness kind of location," Oakes said

"The idea is we can offer things outside of just aesthetics," she added. "We will offer functional wellness (treating someone from the inside out with labs) and hyperbaric oxygen therapy, which is primarily used in this area for wound care."

"It will be a good year before we relocate," Beyer said.

"Dr. Fields' passion is the educational piece, like the robotic surgery," Oakes said. "He trains other surgeons, nationally, how to do women's robotic surgeries, such as hysterectomies.

"And, that's what we sell from a medical aesthetics perspective," she added. "Our goal is to have educational courses for other nurses and medical professions as well, and offer that Mega center, not only for our clients but also others in the industry."

The spa is open from 8:30 a.m. to 5 p.m., Monday through Friday. It offers online scheduling through its website at culturemedspa.com — or call 865-500-0101.