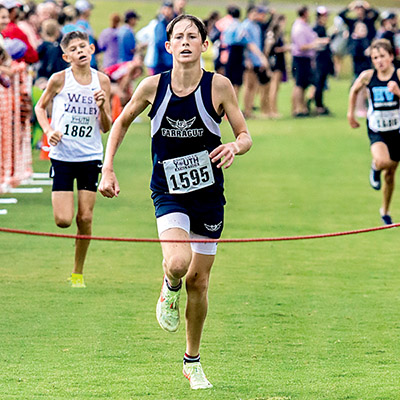 With two sophomores and a freshman leading the way among a varsity boys cross country field of 224 from the Tri-Cities to Chattanooga and Middle Tennessee, Knoxville Catholic High School placed the top three finishers during Cherokee Classic on Cherokee Boulevard in Knoxville, Saturday, Sept. 10.

Meanwhile, local middle school runners made quite an impression during annual Victor Ashe Classic, Victory Ashe Park in Knoxville, Saturday, Sept. 3.

Cherokee Classic

Irish sophomore Keegan Smith was event champ (15:30), followed by freshman teammate Radek Molchan (16:01) and KCHS sophomore Tony Ortega (16:40).

Bearden sophomore Cade Crum placed fourth (16:54), with Farragut sophomore Evan Beeler taking eighth (17:03). The other top-20 local finisher was junior Joshua Cross of Christian Academy of Knoxville (13th).

Three local girls runners finished among the top 20 during Cherokee Classic, among a field of 194.

Sophomore Eileen Loebner of Knox Catholic finished 11th, followed by the Bearden sophomores Millie Lovett (17th) and Lakin Gettelfinger (20th).

Junior varsity run

For Farragut's junior varsity cross country boys at Cherokee Classic, freshman Kaelan Tonnos finished fifth (19:30.00) while Jesse Hao was 19th.

Victor Ashe Classic

Victor Ashe Fall Classic featured several top middle school cross country performances locally despite lots of rain Saturday, Sept. 3.

Leading the way among the boys 2-mile field, Andrew Cabaniss, a Farragut Middle School eighth-grader, was champion (11:34.9), followed by eighth-grader Cade Duncanson of West Valley Middle (runner-up at 11.37.2) and seventh-grader Evan Van De Griff of Hardin Valley Middle (third at 11.39.4). Alex Babb, FMS eighth-grader, was fourth (12:07.4) followed by Isaac Socha, HVMS seventh-grader, placing seventh (12:16.2).

Other top-20 local finishers were Nathan Weiss, HVMS eighth-grader, earning 15th and Boone Piper, WVMS eighth-grader, finishing 19th.

The local middle school girls were equally dominant at the top, with HVMS placing three of the top four, led by champ Emma Cissna, an eighth-grader (13:34).

West Valley's Caitlin Daniels, a seventh-grader, was runner-up (13:59), followed Lady Hawk Ava Woodyatt, an eighth-grader, placing third (14:04.5), and teammate Marely Ortega, a seventh-grader, finishing fourth (14:08.5).

Sixth-grader Gideon Bradford placed seventh (14:14.3), followed by Allie Vesser, HVMS eighth-grader (14.15), Cate Henry, WVMS seventh-grader (14:17) and sixth-grader Linley Lawhorn of Hardin Valley (14:22).

Others in the top 20 were Emma Dolynchuk, HVMS seventh-grader, (14th) and Ariana Vargas, Farrgut Middle eighth-grader, (15th).