Several hundred possible as 'great' Fall festival set Oct. 1-2 at SJNCS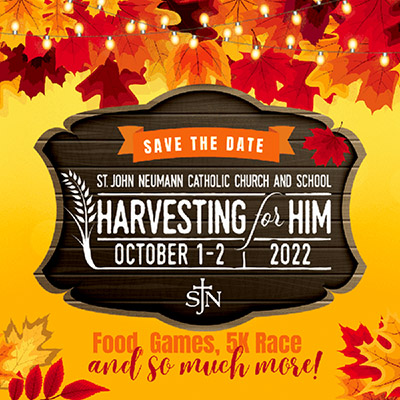 St. John Neumann Catholic School and Church will be on the run this fall to host its 5K and 1 Mile Mustang Miler Fun Run Saturday, Oct. 1, and Harvesting for Him Festival Sunday, Oct. 2, at SJN Church and School, 625 St. John Ct. in Farragut.

"We're excited — it's great," said Patrick Wade, director of development for SJN Catholic School and Church. "Especially since we've been growing it. Last year, we made it a bigger and better weekend. This year, same thing with a lot of St. John Neumann staff and volunteers, who spent a lot of time planning it, executing it to make it a really special event.

"We look forward to it every year," he added, also noting the event could draw several hundred people.

"Last year, when we had the 1-mile and 5K on our campus for the first time, we had 150 to 200 register," Wade recalled. "We'll see on the 5K, but I think we'll have a really big crowd.

"The whole weekend, we have two title sponsors: Maid Brigade of Knoxville and Nerds-to-Go," he added.

The weekend's events are open to the Farragut community, Wade said.

The festivities begin Saturday with the 1-mile Fun Run at 8:30 a.m. and 5K at 9 a.m., starting and ending at the school, running along the greenway.

"The race, especially, might appeal to people in the community because there are a lot of people who run almost every weekend and are looking for races to run," Wade said. "It's an officially timed race with award categories."

There are no age limits for the races, but there will be age and categories for the awards.

"There's a website for the race, specifically — sjnknox.org/run — that has all the details and registration," he said. There is a $25 per person in advance fee to participate and $35 the day of the race.

"Any proceeds we get will benefit the school and parish," Wade added.

The fun continues from 1:30 to 4:30 p.m., Sunday, in the area behind the school and church with fall festival activities: children's games, inflatables, a kickball tournament, food trucks, beer and wine sales and more.

He said there is no admission fee, although food, beer and wine are available for purchase and there is a fee to compete in the kickball tournament.

For more information about the event, call Wade at 865-696-1182.