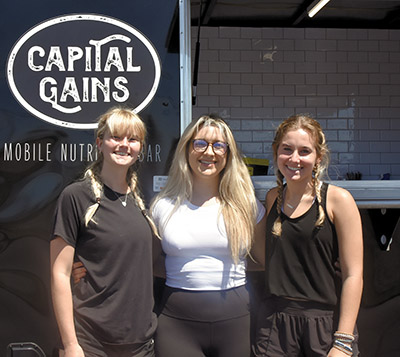 On the hunt locally for a delicious and nutritious smoothie, health enthusiast Jenna Gresham said she came up empty.

Newly transplanted from Tampa, Florida, to Hardin Valley with her husband, Zach Gresham, last December, the couple found an exercise facility they enjoyed, Armor Gym of Lovell Road, but could not find nutritional fuel after their workouts.

"I actually walked out of several places when I couldn't find what I was looking for," said Gresham, noting a "huge variety" of smoothie offerings in Florida.

"I consider myself very much an educated consumer, but could not find fresh ingredients, for example, and most places used powder instead of actual food items."

Quick brainstorming led to Gresham deciding to open her own mobile nutrition bar, naming it Capital Gains, and worked with Armor Gym to locate in its parking lot, 10710 Lexington Drive.

"Once I had the idea, I worked with the gym to develop the menu to make sure it would be up to their standards," she added.

After working for several months on the design and offerings, she opened Capital Gains July 11.

She describes the business as a "one-stop shop for protein shakes, nutrient dense meals and other goodies. Macros on everything are on the menu … and everything is fresh — whole foods and veggies only."

A variety of smoothie flavors — including the seasonal current favorite, pumpkin spice — are on the menu, including strawberry lemonade, slutty brownie and Pina colada. Add-ins include peanut butter and banana, as well as collagen.

Additionally, Capital Gains offers buffalo chicken-stuffed sweet potatoes, along with other protein rich options.

Calories are relatively low, as are sugar and carb content.

So far, response has "been great," Gresham said. "We actually sold out of everything we had within the first week we opened.

"What we found, is that there was a real need for this, for what we offer," she continued. "Everything else around here, within a 5-mile radius, is fast food only, but people are really looking for nutritional and healthy meal options."

Gresham's personal career path has followed cybersecurity, "but I've always been super active on the side, playing lots of sports — and I love cooking for my family," she said. "Capital Gains merged my hobbies all into one."

She is quick to point out the business "is not a chain, and is not affiliated with Herbalife, but it is something I would love to see us franchise and offer in more locations in the future."

Gresham has hired two employees: Johanna Sumner and Zoe Brown. The business is open from 8 a.m. to 8 p.m., Monday through Thursday, and from 10 a.m. to 4 p.m., Friday and Saturday. It is closed on Sundays.

So far, she has relied on word of mouth and a social media presence on Instagram for advertising. It may be found @capitalgains_knox.