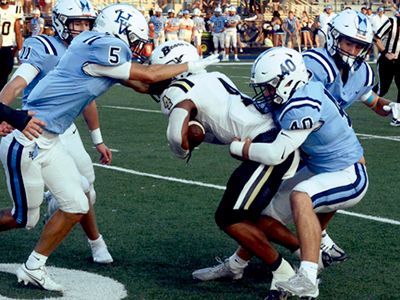 HARDIN VALLEY — Holding a highly potent Bradley Central offense scoreless in the first half, Hardin Valley's offense almost kept pace with a Bears second-half scoring spree, as the winless Hawks (0-4) put a scare into unbeaten BCHS (5-0), losing 24-17 Friday evening, Sept. 16, at HVA.

Recovering a Bears fumble to begin the third quarter, a Nathan Holbrook 32-yard field goal made it 3-0 Hawks. But Bradley cranked up its offense, largely behind the running of J. Allen Terry.

However, Hardin Valley twice cut two-score leads down to single digits thanks to a 5-yard touchdown run from senior runner Tayvon Morelan and a 12-yard end-around TD run by senior receiver Dolan Walker, the latter midway into the final quarter.

Walker also contributed a 36-yard reception from senior quarterback Caleb Smith.

Holbrook, with Jacob Wilson snapping, also converted both of his extra points.