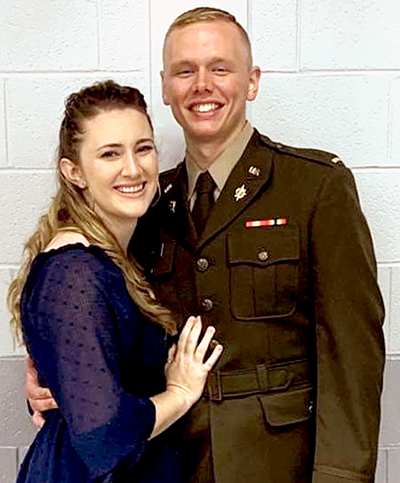 HARDIN VALLEY —Hardin Valley Academy math teacher Matthew Riddle recently graduated from Tennessee National Guard Officer Candidate School and earned his commission as a second lieutenant in the Tennessee Army National Guard.

Riddle, an officer candidate, completed the 18-month traditional OCS program, which is designed to turn officer candidates into platoon leaders in the U.S. Army.

Earning the commission is "fantastic," he said. "It was a really hard course, but I'm definitely pretty excited I finally got it."

"The program is broken into four phases and is completed through monthly weekend drills and two 15-day training sessions held in the summer," said Darrin Haas, with joint public affairs office of Tennessee Military Department. "Officer candidates are tested mentally and physically to develop their leadership skills in a high-stress environment."

"OCS was the most challenging program that I have ever been a part of," Riddle said.

Now, he will serve as a platoon leader for the 278th Armored Cavalry Regiment.

"I've always had a strong desire to serve and wanted to join an organization that allowed me to fulfill that desire while being able to maintain my civilian job," Riddle said.

This is his fourth year at HVA. He is teaching geometry and bridge math this year, but he has taught "pretty much any math you can in high school" through the years.

Before joining HVA, he spent two years teaching at Jefferson County High School and has been with Tennessee National Guard almost three years.

Riddle currently is pursuing his Ph.D. He graduated from Merrol Hyde Magnet School in 2013 and graduated from Carson-Newman University in 2017 with a bachelor's degree in mathematics. He earned a Master of Education degree in curriculum and instruction.