Farragut Eyecare practice celebrates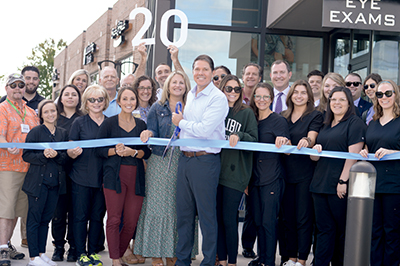 For the past two decades, Dr. Brent Fry has seen his practice, Premier Eyecare, 11111 Kingston Pike, next to Admiral Drive, grow.

"It's pretty amazing," the optometrist said. "Twenty years seems like a long time until you live through it. It seems like a blink of an eye."

Fry and his staff joined Farragut West Knox Chamber of Commerce members and Town officials in celebrating that 20-year milestone with a ribbon cutting, hosted by FWKCC, at his practice Tuesday, Sept. 13.

"We're here to do one of our favorite things that we get to do for business members, which is to do a ribbon cutting to celebrate the anniversary of 20 years in business," said Julie Blaylock, Farragut West Knox Chamber of Commerce president/CEO.

"Having small businesses like this grow over time is what we love to see in the Town of Farragut," Town administrator David Smoak said. "I just really appreciate all the work and effort you put into your practice here. You do such a great job in our community, and we really appreciate that."

Fry, who initially came to Farragut when he was 1-year old, attended Farragut schools before earning his bachelor's degree from David Lipscomb University in Nashville in 1993 and his doctor of optometry degree from Southern College of Optometry in Memphis in 1998.

"I grew up here," Fry said. "My mother still lives in the same house I grew up in. … I just wanted to come back (after college) and practice in my hometown.

"I love this area and wanted to raise my kids here," he added.

Fry observed, "Farragut has changed tremendously since I grew up. It's a lot busier, but there're still a lot of faces from back in the day that are patients of mine.

"I run across classmates all the time," he added.

After working out of Town, Fry called local optometrists but found no openings, so he took a chance and opened his own office on Sept. 11, 2002, at the location next door to his current office.

"My daughter (Lily) was born about nine months later," he recalled. "My son (Mason) was 2 years old.

"We just opened up the doors cold, which was pretty hairy at the beginning," Fry added. "I had to moonlight a little bit at some of the different chain stores on the weekends, just to make a little money.

However, "we've gone from two employees to 10," he said. "I think all businesses take a leap of faith."

"We've got a great staff," Fry added. "Lot of new faces, too."

Dr. Taylor Greene joined his practice almost three years ago.

The practice eventually outgrew the former office, and Fry had his current office constructed a few years ago.

"You don't have to be a patient to buy glasses here," he said. "We wanted to build (the office) to be easy to come in and browse without feeling like you have to come in and schedule an appointment … We want to have it available to anybody."

"It's always incredible to watch a business grow, especially for you to start here and then come back to your roots," Blaylock said.

Premier Eyecare is open from 7:30 a.m. to 4:30 p.m., Monday, Tuesday and Wednesday; from 9 a.m. to 6 p.m., Thursday; and from 7:30 a.m. to 1 p.m., Friday. For appointments, visit its website, www.premier-eyecare.net, or call the office, 865-966-0111.