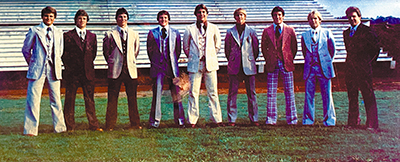 Perhaps Farragut High School's 1978 Admirals were the most talented FHS football team during the program's first 75 years.

The starting quarterback, who went on to become an All-state honoree before winning a pair of small college national championships alongside his high school coach, speaks like a kid remembering his candy store raid 44 years before.

"For me personally, as an athlete, I couldn't believe how fast and how strong we were," said Jeff Joslin, then a junior quarterback who actually was elevated from third string — due to injury and a position change — to lead this special bunch behind center. "Defensively, they would punish people.

"And seeing these guys, it doesn't even seem real that I was a part of that team," Joslin added.

"I'm a little biased, but knowing athletes and knowing high school teams, we had to have been one of the top teams in the country."

Starting out 12-0 (a perfect 10-0 record season and two playoff wins), these Admirals reached what was then the Class AAA state semifinals (no public-private split then). A crushing double-overtime loss to Chattanooga Red Bank, at FHS, ended that memorable season short of the obvious goal.

But there are plenty of fond memories.

Special victory

While beating rival Bearden that season, the most prized regular season victory came against nemesis and Class AAA power Oak Ridge, the only team to beat the Admirals during an outstanding 10-1 season in 1977.

While the Admirals switched to "tear-away jerseys like Tennessee (then) had … so we were hard to tackle," Joslin added.

But the Oak Ridge coaches had a plan to reduce Joslin's number of plays.

"They would have their players tear off my jersey every play, then I'd have to come out of the game," he said.

Such tactics we're enough to prevent Farragut from a breakthrough 17-14 win against the Wildcats. "The Oak Ridge win that year was huge because they were so hard to beat," Joslin said.

Hard-hitting defense

With the likes of senior safety Bill Bates, future Tennessee Volunteer standout who went on to earn two Super Bowl rings as a special teams star with the Dallas Cowboys, Farragut's 5-2 defense was loaded with talent.

That bunch also included linebacker Rusty Rennie; defensive tackles Jeff York, Tim Beeler, Jack DeMatteo and Jeff Bolen; defensive ends Tommy Sanders and Jimmy Snider; and defensive backs Kip Kirby, Oscar Fowler and Haskell Jeter.

Bates "wasn't fast, but he was the hardest hitter," Joslin said. "… I remember hearing about Bill in CBFO (youth football) as 'this guy who was just punishing people'" with hard hits.

How tough was this 1978 defense?

"The South-Young playoff game (before South-Young and Doyle high schools were merged into what is

now South-Doyle High) was huge," Joslin said.

Cherokees running back Todd Green was a 6-foot-2, 230-pound star. "I think the paper said that Farragut was going to have trouble with South-Young, and that nobody could bring (Green) down," Joslin recalled.

However, "This guy was hit so hard, like (from) Bates and York. … I think coach Sparks said, 'Let's make sure he's not ready for the second half;' not to hurt him, but just punish him.

"In the second half, this guy was sitting (on the bench) with a towel around his neck," the ex-FHS star added.

Flexible veer offense

"In coach Sparks' (veer) offense, I could change the plays; he trusted me," Joslin said, which happened "probably 30 to 40 percent" of the time.

However, in a run-oriented attack "we probably only threw the ball 12 to 15 times a game," he added, yet had reliable receivers including Wil Garland, moved from being the back-up quarterback, along with Mike Baird, Mark Miller and Fred Swisher.

However, between star running back Jim Compton, stellar fullback Doug McQueen and Joslin, "I think all three of us had 1,000 yards each that season," the ex-quarterback said.

Helping make that possible were offensive linemen that included David Cowan.

All of this was done in 1978 without star quarterback Stan Cotten, a senior whose final season — and his football career, as it turned out — was ended during a severe "fall camp" knee injury "at Sewanee" just

weeks before the 1978 season began, Joslin said.

"Coach Sparks pulled me aside and said, 'Let's do it; you're ready for this,'" the ex-quarterback added.

Cotten landed on his feet quite successfully — in the broadcast booth — as the Voice of Wake Forest University Football and Men's Basketball.

Joslin landed on his feet as a actor-turned-film producer.

The FHS football program landed quite a few memories from 1978.