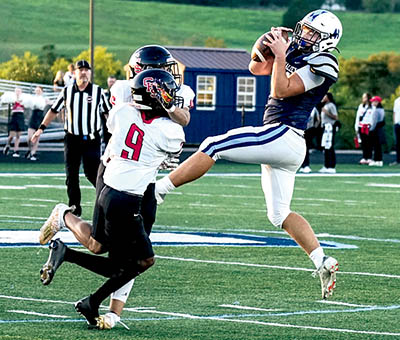 HARDIN VALLEY — Inching closer to a victory — this time getting even late in the fourth quarter — Hardin Valley Academy still fell a tiny bit short on HVA Homecoming Night Friday, Sept. 23. A Knox Central 26-yard field goal with 2:06 to play eventually gave the Bobcats (3-3) a hard-fought 17-14 victory.

Senior quarterback Caleb Smith led the Hawks on a 65-yard scoring march to cut a 14-6 deficit to 14-12 after his 4-yard TD run with 4:53 left to play. Smith's two-point pass to AJ Gray, perfectly placed on a sideline route, tied the game. A 38-yard Tayvon Morelan run was the drive's big set-up play.

The Hawks (0-5) struck first scoring-wise, going 70 yards on their second possession of the game.

Two critical catches by tight end Nathan Holbrook, one of 27 yards before his fingertip catch of a fourth-and-5 pass gave HVA a first down. Morelan's 5-yard scoring run made it 6-0 (extra point blocked).

Despite a powerful Central running attack with strong and quick backs, the Hawks' defense earned praise.

"I'm super proud of them," HVA head coach Jeff Miner said. "In the first half we really only gave up two plays.

"... Our kids never quit; they fight," he added.

The Bobcats went up 7-6 thanks to a 98-yard drive featuring a 34-yard run and ending in a 47-yard TD pass when the quarterback faked a draw run and fired a jump pass downfield.

Though its 25-yard TD pass late in the first half was nullified by a holding penalty — eventually throwing an interception — Central went up 14-6 on its first possession of the third quarter, going 80 yards and scoring on a 4-yard run.

Hawks defensive backs Dolan Walker and Brody Lamb each had an interception. Holbrook booted two punts for 47 yards each.