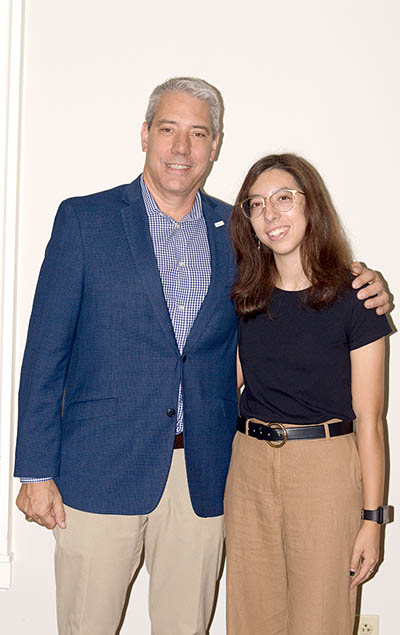 Bearden High School senior Valerie Kinson is following in the footsteps of her father, Tory Kinson, a Rotary Club of Farragut member, as a world traveler through the Rotary Youth Exchange Program.

Valerie is the 2023 RCF-sponsored outbound exchange student.

"My dad actually was an exchange student with the Rotary Club when he was my age," she said. "When we moved to Tennessee, he got involved with the RYE program. He told me 'this is an experience you need to have.' He wants my brothers and I to do it.

"I was so excited," Valerie added. "I love international travel. It was through my dad and Farragut Rotary I was able to have this opportunity.

"It will be the longest I've ever been away from home. I hope I'll make a lot of memories and have a great time."

"What's not to love about this?" Tory Kinson asked. "Monica and I feel great because we know what this experience is going to do for her.

"It will boost her confidence, challenge her in ways we could never design, and she will come out of it a changed person with a much broader view of the world," he added.

"And most of all, she'll really appreciate how great the United States is. She will get to see this from an outsider's perspective."

With most parents, "it's not easy to send your child someplace far away. But since this is administered through a worldwide organization like Rotary, we know how much goes into making sure she's going to be safe and with a good family," Tory said. "I was a Rotary exchange student myself back in 1989 and even though it's a one-year experience, it actually begins one year before and ends one year after the trip.

"Rotary prepares the students for the culture and language shocks well before they leave," he added. "They also vet the families and support network where they are going — just like we do here when we receive a foreign student."

While in high school, he spent a year in Ecuador with the Velez family.

"Even though it's been over 30 years, I still feel very close to them," Tory said.

Valerie expects to depart in July 2023 and will find out which country she will be going to in February 2023.

Her first country of choice to visit is South Korea.

"It's the one I really want to go to," Valerie said. "I do love the culture. I know a pretty basic amount of the language.

"I have a lot of friends, actually, from that country," she added. "I love their food, I love their culture, I love their music, I love their TV shows, their movies, and I really just think it's a beautiful country."

Other choices include Japan, Thailand, Italy and Taiwan.

However, just to live in one of those countries, "I'm excited for the experience because I'm going to be in a high school, basically, doing senior year again in a foreign country, which is pretty exciting," Valerie said. "I'm going to be learning a new language, going to try some new foods, meet a lot of new people, make a lot of new friends.

"The fact that it's a year away just amazes me in that I get to do it before I go to college," she added. It's just a really awesome experience to have."

While at BHS, she writes for the school newspaper and is an aspiring screen writer and computer coder.