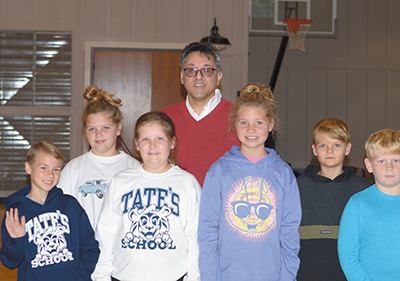 Tate's School celebrated Hispanic Heritage Month, which culiminated with a special speaker, author Dr. Adrian Gonzalez, for fourth- through sixth-grade students at the school, 9215 Bob Gray Road, Thursday, Sept. 29.

Gonzalez read from his newly released book, "Lola Derez and the STEM Mystery Series," and spoke to students along with signing books.

"I am trying to reach middle school and early high school students to get them excited about science, math and technology in a way that's not traditional," he said. "Normally, they would go to school and read a dry science book … but my books are fiction stories, so I'm hoping to engage their non-fiction, fantasy-type thoughts and instincts as children, but also connect it to science and math and make them realize that kids their age can be involved in science and math.

"It's all around them in their normal world," added Gonzalez, who is of Puerto Rican heritage. "They may not even realize it."



 



 

"Dr. Gonzalez had children who attended Tate's School several years ago, and he serves as one of our science fair judges every year in the spring," Tate's principal Kaye Simmons said. "He is passionate about science and making sure that young people have opportunities to learn more about the sciences.

"He notified us about his book and gave our board members a copy to read," she added. "We really liked it, and our library specialist, Ms. Necole Sykes, contacted him to arrange for his 'Author Visit.'

"In addition to hearing from the Hispanic author, the school has offered Spanish language classes to all students, beginning with its 3-year-olds, for 55 years.

Cindy Abbatemarco "has been the Spanish instructor for 30 of those years," Simmons said. "In Spanish class, the students dive deeply into the geography and cultures of the Spanish-speaking nations all year long, as well as learn the language.

"During Hispanic Heritage Month, our students focus on particular countries, and guest speakers are invited in to share about their background and culture," the principal added. "Students are also treated to delicious foods from various nations as part of our lunch program."

Tate's School has operated for 53 years, serving preschoolers through eighth-graders.

The school occupies 54 acres off Bob Gray Road near Cedar Bluff Road.