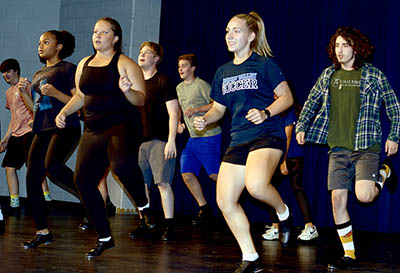 Hardin Valley Academy's choir and musical theater classes have converged to present a musical revue, "Raise Your Voice."

Tickets are on sale now for the revue, which will take place beginning at 7 p.m., Friday and Saturday, Nov. 18-19, and at 3 p.m., Sunday, Nov. 20, in HVA Auditorium, 11345 Hardin Valley Road. The performance is open to the public.

"After auditions, I'm hoping I will get cast as a lead dancer in the tap song," said HVA senior Eleni Johnson, one of the show's cast. "I love musical theater. Performances are like my favorite thing ever."

"I'm excited" about the show, said John McMeen, the choir teacher who also co-teaches musical theater with John Sides. "I think it's great to also collaborate with John Sides, the musical theater teacher, and Traci Lively, the choreographer.

"I've been working their tails off," Lively said. "John (McMeen) and I actually discussed this (show) pre-COVID that we had a five-year plan for tap shows. This is actually my second tap show I've done."

Lively is contracted out by Knox County Schools to provide choreography, but added HVA is her main school, serving her 10th year there.

"We work them hard and they do everything in rehearsals from 2 to 3:30 p.m.," McMeen said. "It's nice to connect with the alumni who come back.

"The kids are super excited because they get to do all kinds of different singing, different show genres," he added. "This is all for them to show off their skills and for their parents and loved ones to enjoy what they do on stage."

Tickets, which cost $10 each, but $5 for those ages 12 and under, may only be purchased online on the HVA website and at www.knoxschools.org. No tickets will be sold at the door.

Additionally, "there will be a link — a QR code — on our posters that will be put out in the community," McMeen said.

"And, when you buy a ticket, you can choose (someone in the show) to dedicate (the ticket sales) to," he added. "I think it's to give back and know that you bought tickets to see an individual you know. Last year, we made $75 for the show. We also take donations as well."

McMeen said the idea to hold revues started last school year. "I was new last year, when Musical Theater Inc. released the rights worldwide to do the first revue for free, post-COVID," he recalled.

"A lot of theater companies lost a lot of money during COVID because of a lot of performances were shut down, so they gave this idea that high schools and collegiate groups could do these revues to make money back they lost during COVID," McMeen added.

"We decided to do it this year and last year to incorporate alumni … to bring them back to perform with us, and our own faculty members also. The kids can see their teachers on stage dancing and singing, as well as teachers can see their former students and current students perform."

For more information, call McMeen, 737-704-8840, or Sides, 865-789-2915, or e-mail McMeen at john.mcmeen@knoxschools.org or Sides at john.sides@knoxschools.org.