FHS seniors, 5, have their heads shaved to fight breast cancer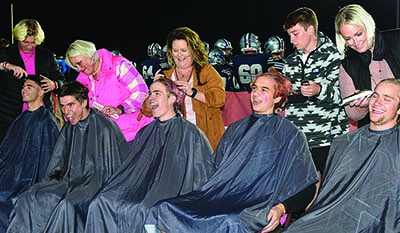 Five Farragut High School seniors sacrificed their crowning glory Friday, Oct. 21, all in the name of a good cause.

Will Duncan, Cole Palmer, Ty Finnegan, Keeton Lyell and Conner Deakins, known as the "Friday Night 5," had committed to what is now a four-year FHS tradition — to shave their heads if they reached their fundraising goal for the American Cancer Society during October's focus on breast cancer awareness.

They did not disappoint, raising $5,135 for the cause, which was announced during the FHS "Pink Out" football game versus Fulton (also Senior Night for football players, cheerleaders, dance team and band members).

A sea of pink, as students and parents participating in "Pink Out for Breast Cancer Awareness," erupted in cheers, which continued as the young men bravely took their seats and were shorn by Studio 135 owner Jess Moore, along with fellow hair stylists Heather Carper and Amy Owen.

"I'm so glad to be part of this," Moore said. "That first year, when I heard about it from (founders, then FHS seniors) Garrett Howe and Adam Fuller, and they said they would shave their heads if they met their goal. I said, 'I will one up you — if you make your goal, I'll come to the football game and shave your heads myself,' and I did.

"It's great to help keep up this tradition."

Also helping with the task were Brett Holloway and Garrett Brewer, who had their own heads shaved for the cause last year, and Taylor Courtney of Taylor Rae Beauty, daughter-in-law of FHS football head coach Eddie Courtney.

"We never had five before, so we needed help with the actual shaving," said Stephanie Thompson, who organizes October Breast Cancer Awareness events and Pink Out T-shirt sales in honor and memory of her sister, Ashley Slagle, an FHS alum who died of breast cancer at age 30. "(The students) all volunteered to do it, and I am very proud of them."

Deakins, who along with Lyell, Meredith Van Lueven and Katelyn Kramer are this year's section leaders — also known as "Clabo Crazies" who paint "the Rock," oversee social media and keep the crowds excited and cheering for school sporting events — said he was "happy" to shave his head in support of the local American Cancer Society

"I got really happy when they said we met the goal, and was glad I did it," he said afterward, while continuing to lead the students in cheering on the Admirals, who handily beat Fulton 63-24.

Overall, between the "Friday Night 5" and T-shirt sales, Thompson said around $8,200 was raised this year for ACS.

It's all for Ashley, who remains top of mind for her sister.

"She's the reason we keep fighting," said Thompson, who along with her family remains very involved and passionate about cancer awareness and helping find a cure.