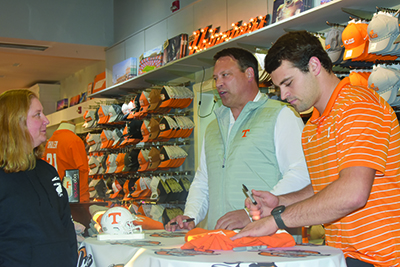 The Boys and Girls Clubs of the Tennessee Valley are benefitting from the generosity of two businesses and a storied University of Tennessee football family.

Athletic apparel featuring the number "21" — worn at UT by Heath Shuler, former Vol quarterback (1991-93) and Heisman Trophy runner-up, and now by his son, Navy Shuler, also a Vols quarterback — has been sold at Alumni Hall in Turkey Creek since earlier this year, with the Shuler family waiving its Name Image Likeness rights for the cause.

"Bacon & Co absorbed the cost to print the shirts, and Alumni Hall is lending their services to retail the shirts in their stores and online so that 100 percent of the Shuler product sales go back to the Boys & Girls Clubs of the Tennessee Valley, "stated an Alumni Hall press release.

"We produce much of the NIL merchandise in Knoxville, and it's great that the Shulers are flipping the script and using this opportunity to give back," said Jed Dance, president of Bacon & Co. "Our company and staff were happy to lend our time and resources for the Boys & Girls Clubs."

The Shuler family has long supported the Boys and Girls Clubs, and now that they are back to calling Knoxville home, they decided to do their part for the Boys & Girls Clubs of the Tennessee Valley.

"I worked for the Boys & Girls Clubs in college, and that experience shaped my desire to give back to the community I live in," Heath said. "Those are traits that I instill in my kids, so I am humbled that Navy and I can do this together."

Heath — a North Carolina native who went on to play in the NFL for the Washington Redskins and the New Orleans Saints, and served as U.S. Representative from North Carolina's 11th Congressional District — along with Navy, visited Alumni Hall in Turkey Creek Thursday, Oct. 20, signing not only Alumni Hall apparel, but also other related memorabilia for fans who stood in line to meet the pair.

Among them was Kelly Lupton, whose school, Currituck County High School (North Carolina), played Heath's Swain County (North Carolina) High School team in 1989.

The apparel has been reordered several times after selling out, said Beth Parks, Alumni Hall Stores marketing and partnership director, who noted a "healthy" check representing the proceeds raised will be presented to the Boys & Girls Clubs in the not too distant future.