'Mayberry Man' film gives Valley duo national exposure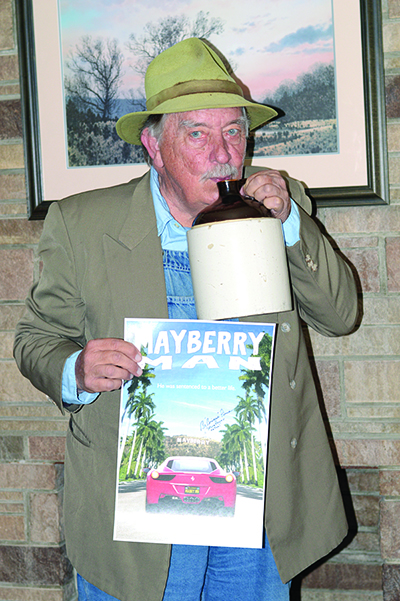 William Gail "Bo" Pierce, who lives near Hardin Valley, is one of a number of East Tennesseans paying tribute to The Andy Griffith Show in a big way — portraying the characters in parades in other events — but most notably in two films with a national scope.

A member of the Andy Griffith Rerun Watchers Club, Pierce dons his overalls and carries his jug as the show's Briscoe Darling, leader of the Darling family.

The club's Mayberry chapter has two other locals — Dennis Beal of Hardin Valley, who portrays another AGS character, Mr. Schump, and Chris Monday, who lives in the Powell-Hardin Valley area.

Through Pierce's involvement in the club, he has met original actors from the TV show, such as Maggie Peterson Mancuso, who portrayed Briscoe's daughter, Charlene Darling, and George Lindsey, who portrayed Goober Pyle.

"It was just an absolute treasure to be around (Lindsey)," Pierce said.

Pierce also has been cast in the two films — the documentary "The Mayberry Effect" and most recently "Mayberry Man" in 2021.

His appreciation for the show spans 60 years.

"I was almost 11 when it first aired (Oct. 3, 1960)," he recalled. "I watched it from the get-go … I kept watching it."

Close to 30 years ago, Pierce and his wife, Lavonne, were sitting on a curve, watching the Dogwood Arts Festival parade in downtown Knoxville and "looked and here comes a Mayberry sheriff's cruiser.

"People in front of it are holding a banner that says 'Andy Griffith Rerun Watchers Club.' I'm like 'Whoa!'

"As the guy driving the car gets up where we're sitting, my wife yells out, 'Hey Dud!' He looks over and says 'Hi, Lavonne,'" Pierce related.

After realizing she knew the club member, Pierce asked Lavonne to find out about the club.

"There are close to 2,000 officially sanctioned Rerun Watchers Clubs now around the world, and the Knoxville group (Mayberry chapter) is one of the first sanctioned chapters," he said. "I got involved with them after that parade and started going to meetings."

In Pierce's search for a character, his first try was "Regis," in the episode about the gold shipment, who was holding up a sign, "Down with the gold standard" in protest.

However, "somebody said, 'you look kind of like Briscoe Darling,'" he recalled. "I love Briscoe Darling. I'm going to try that."

Since that time, Pierce has portrayed Briscoe in local parades and shows.

While he knew nothing about Mount Airy, North Carolina, Griffith's hometown, he attended a Mayberry Days Festival there in 2000.

"One of the first celebrities I met was the girl who played Charlene Darling — Maggie Peterson (Mancuso)," Pierce said. "She and I became fast friends. She complimented me on how I looked.

"I've been very fortunate to meet a lot of folks who were on the show," he added. "So many of them had passed away, including Maggie."

He said one of the last big events in Mount Airy is a parade. "All the celebrities who are still around are in the parade," Pierce said. "They ride in convertibles and stuff. A bunch of us walk in the parade. Huge crowds. They have 20,000-to-30,000 people who come to this festival from all over the world, really.

"I was walking down Main Street, and a guy with a professional-looking movie camera was out in the middle of the street filming me," he added. "I didn't know where he was from. I thought I would ham it up a little bit.

"It turned out he was a documentary filmmaker from North Carolina, Chris Hudson. He was shooting what became a documentary called 'The Mayberry Effect.'

He and other club members were labeled "tribute artists, which sounds kind of lofty and egotistical to me, but he interviewed a lot of us; he interviewed a lot of the surviving members," Pierce said. "He interviewed people attending the festival as fans and he interviewed some educators and psychologists to figure what has this effect on people that the show is still popular after 50, 60 years."

Pierce's next big break came about with the feature film, "Mayberry Man," directed by Stark Howell, son of Hoke Howell, who played Dud Wash (Charlene Darling's husband in two episodes of the show).

"They decided to film it in 2020, in the middle of the pandemic," Pierce recalled.