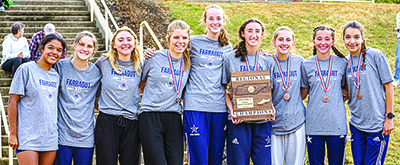 KNOXVILLE — Winning the Region 2-AAA girls cross-country individual crown for a second straight year, Maddie Archdale is particular about her performances — even at the top of the heap.

"I was hoping for a better time, but this is all about qualifying for state," the Hardin Valley Academy junior said shortly after posting a first-place time of 19:08.15 at Victor Ashe Park Wednesday morning, Oct. 26.

Despite the "hilly, tough course" VAP offers, "I'm just proud of myself for improving from the last race I had here," added the junior, who also won Victor Ashe Fall Classic here Sept. 3. "I felt a little bit off, but overall I think it was a pretty good race."

Meanwhile, Farragut senior Kennedy Reynolds did well enough "on my least favorite course" to help her Lady Ads win the team region crown, edging runner-up HVA 44-53.

Though noting Victor Ashe Park has "too many hills" to be her favorite, "Overall it was a good race," added Reynolds, who finished fourth (19:57.76), as four FHS girls finished in the top 10. "This might be my best time for this course," having run it "over 10 times" in her cross-country career.

Other top Lady Admirals were sophomore Kenzie Lefler finishing eighth (21:22.79), followed by junior Melanie Hayman claiming ninth (21:30.47) and freshman Caroline Faugot taking 10th (21:31.31).

State meet, other top efforts

As opposed to VAP, Reynolds said "I do like" the Sanders Ferry Park course in Hendersonville, site of TSSAA Class AAA State Meet Friday, Nov, 4.

Other top 20 Lady Ads in region were sophomore Cora Esquivel taking 13th and sophomore Lydia McFall 19th.

More on the Lady Hawks

Archdale finished 12th at the Hendersonville course during last season's state meet. "I definitely like that course," said the junior, who also finished third at KIL and fifth at a prestigious multi-state meet in Kentucky. "It feels fast, but also it gives you hills."

Other top Lady Hawks at region were sophomore Stuart Ann Leath finishing sixth (20:44.81), junior Ryann Winterbotham taking 14th, senior Madeline McColl grabbing 15th and junior Olivia Schippers claiming 17th.

Bearden fourth

Finishing fourth as a team, Bearden had three runners in the top 20, led by sophomore Millie Lovett taking seventh (20:53.56). Sophomore Haley Jordan claimed 12th and sophomore Lakin Gettelfinger 18th.