Growth spurs changes for The Tailored Closet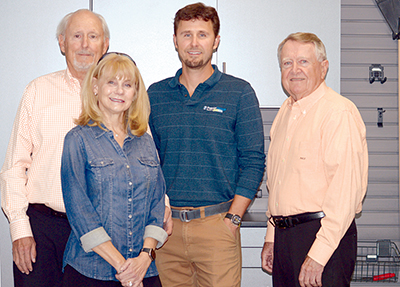 KNOXVILLE — Tailored Living of Knoxville has a new name, The Tailored Closets, and location — 10310 Cogdill Road — closer to Farragut and the company's owners' homes.

The business, which specializes in design and installation of custom closets, pantries, home offices and other storage systems — as well as flooring — for the home has rebranded to a name reflecting the company's evolution and vision for its future, according to Kathryn Norton, co-owner.

The rebranding became effective Tuesday, Nov. 1.

"We are part of a national franchise, even though we are locally owned and operated," she said. "We do inside the home. We do closets, pantries, mud rooms, laundry rooms — everything but kitchen and bath cabinets."

"The name change better reflects the services offered by the company," said Brian Falls, co-owner who runs the daily operations. The change "makes it easier for potential customers to recognize what we do and it underscores our focus on making the most of a homeowner's space with custom organizing systems."

"We found not having closets in the name didn't always identify what you do," Norton added.

"When we bought in (to the company), that was when somebody had the great idea of putting closets and Premier Garage together," said Dennis Falls, Brian's father and co-owner. "It was great for the homeowner and terrible for marketing."

Besides the new name, the company also moved from Middlebrook Pike to Cogdill Road.

"We've been looking for two years," Norton said. "It was hard to find a place that had warehouse, office space and a place we could have a showroom."

"It's been great," she added about the new space. "The location is really good for us, and it gives us more space for growth. We have been blessed every year we have grown double-digit growth."

Saying they are glad to be further west, "We get over 27 percent of our business in the Farragut area," Norton said. "That includes Farragut, the 37922 Zip code and 37932 Zip code.

"We go all the way to Athens, Crossville, Morristown and up north to the Norris Lake area," she added.

"A lot of employees are our employees — we don't sub(contract) anything out."

"One of the things that makes me happy is we have done so well," said Dan Morgan, initial owner who bought the company, then 15-year-old Premier Garage, in 2010. "We've never had one complaint from the Better Business Bureau."

That same year, Dennis and Norton joined the company with Morgan, then Brian was added.

"It's been a real satisfaction," Dennis said.

"We built this business on trying to focus on the customer, providing good service" Norton said. "We are blessed to have good employees."

The Tailored Closets is open from 9 a.m. to 5 p.m., Monday through Friday, and closed Saturday and Sunday.

To book appointments or for more information, visit its website at TailoredClosetKnoxville.com or Home Advisor or call 865-947-8686.