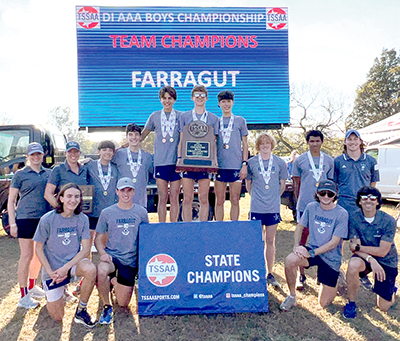 HENDERSONVILLE — Placing three of its runners in the top five during the TSSAA Class AAA Cross Country State Meet, Farragut proved dominant in winning a state championship at the Sanders Ferry Park course Friday afternoon, Nov. 4.

Trevor Coggin, senior state runner-up (15:33.13), was followed by fourth-place junior Braden Ebbert (15:43.75) and fifth-place junior Matteo Tonnos (15:46.98), as the Admirals' score of 41 was far ahead of runner-up Hendersonville Beech (101) and third-place Brentwood (129).

"This was the first state title for Farragut boys cross country since 2001, so we are pretty excited," program head coach Chelsea Osborne said. "The boys were really focused going in and executed the plan perfectly.

"We went into the meet fighting sickness and we knew it would be hot, so to have the day we had was awesome," she added. "Trevor finishing second after finishing seventh last year, and running 15:33 in the heat, shows his toughness. Braden Ebbert and Matteo Tonnos really stepped up, and it'll be exciting to see what they accomplish next year."

Other top 50 Admirals finishers were senior Quinn DeGuira placing 18th (16:23.13), junior Harris Cunningham taking 20th (16:33.04) and senior Jarek Morton ending up 24th.

"Quinn DeGuira and Jarek Morton were pivotal in the team victory," Osborne said. "They both had their best race of the season at state.

"This group of boys has just been locked in all year," she added. "They knew the expectations would be high for them this season and they were ready to meet that challenge."

(See related photo, page 1A)

HVA-Bearden

Bearden sophomore Cade Crum made quite a splash, finishing third (15:43.69).

Hardin Valley Academy placed 10th, with its top finisher sophomore Garrett Hawkins, who placed 43rd.

Webb, KCHS boys

Among local private school boys teams, Knoxville Catholic finished fourth in Division II-AA — only 10 points shy of finishing second — led by sophomore Keegan Smith's fourth-place effort (15:31.78). Irish freshman Radek Molchan took seventh (15:44.50) and sophomore Tony Ortega earning 15th (16:28.55).

Webb School of Knoxville's ninth-place showing as a team was led by junior Colin Eckerman's 16th-place effort (16:31.16).