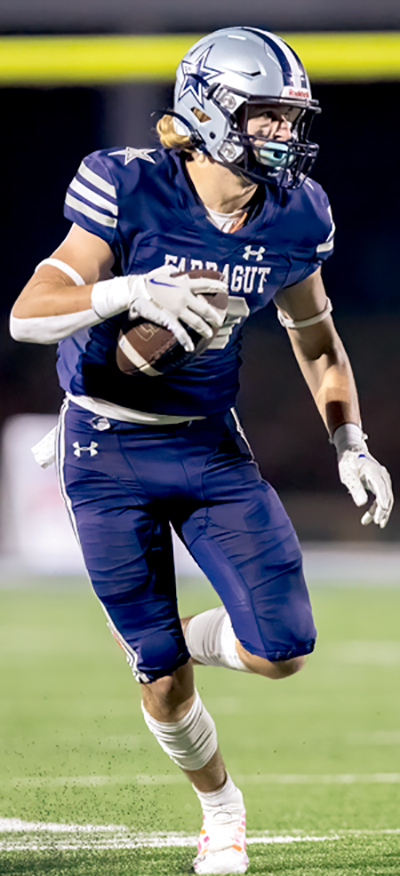 In post-season high-school football, each game is a win-or-go-home affair. "Survive and advance" is a common psychological approach.

Friday night, Nov. 4, at Bill Clabo Field, Farragut High School's football team survived its first-round game of the 6A state playoffs against Jefferson County and advanced to the second round.

But the 17-7 home win wasn't pretty.

The Patriots (7-4) had more total offense than the Ads (9-2), numerous sacks and only three penalties (21 yards) to Farragut's nine (86 yards). FHS did win the turnover battle 3-2.

"It wasn't clean," Admirals' head coach Eddie Courtney said. "I thought at times we just weren't disciplined enough. We got frustrated some. But our kids hung in there. We just kept making plays when we had to.

"They pressured a lot," Courtney added about the sacks. "They brought that fifth and sixth guy. We didn't pick them up enough."

It was Coutney's 200th win as head coach of the Admirals. After the game, FHS principal Dr. John Bartlett and athletic director Don Dodgen presented him with the game ball. (See photo on page 1A)

The game had numerous momentum swings, with both teams seldom able to capitalize. At least three times FHS defenders almost had an interception but didn't grab hold.

Farragut took a 7-0 lead with 3:40 left in the first quarter when, on second-and-1 from the JCHS 35, quarterback Luke Johnson hit Ashton Auker over the middle for the score.

Johnson was 16-of-24 for 224 yards and the TD to Auker. Landis Davila was Johnson's favorite target, hauling in seven passes for 83 yards. Auker caught four for 73.

"I have all the trust in the world in my receivers," Johnson said.

"It kind of feels like a loss," Davila said. "We'll get some stuff together and come out like we usually do."

A turning point came early in the second. Down 7-0, the Patriots were driving. On first down from the FHS 18, quarterback Izaiah Hall threw into the end zone. Admirals' cornerback Jordan Sheppard went up and made a spectacular one-handed interception.

Farragut took over on its 20 with 10:17 left and promptly drove 80 yards in nine plays for the touchdown and a 14-0 lead. Elijah Gibbs scored from 7 yards out on first-and-goal.

Entering the game with 1,094 for the season, Gibbs was held to just 70 on 22 carries against Jefferson County.

Farragut completed its scoring with 3:31 left in the half when kicker Reese Keeney's 24-yard field goal attempt was good. The Admirals went into intermission up 17-0.

The Patriots' lone score came on the opening drive of the third quarter when running back Bryson Letterman ran 28 yards for a touchdown.

Jay Smiley had 11 tackles, five solo, for FHS. Kent Carbaugh had 10 total, seven solo.