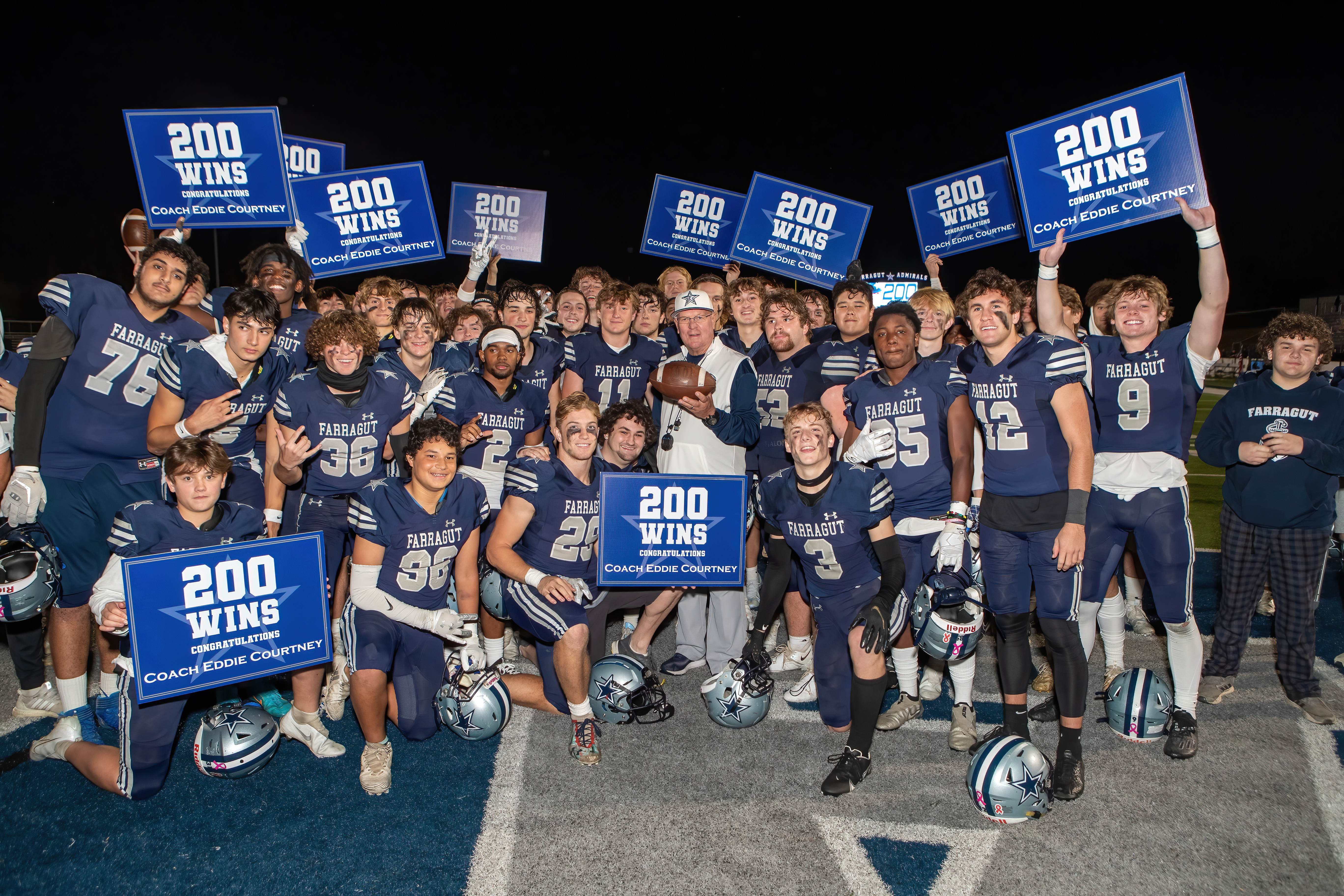 Friday night, Nov. 4, in the stadium bearing his name, Eddie Courtney enjoyed a milestone victory during the first round of the high-school football Class 6A state playoffs.

Farragut's 17-7 win against Jefferson County not only put the Admirals into the second round — traveling to Johnson City Science Hill Friday, Nov. 11 — it was Courtney's 200th career win, coming near the end of his 27th season as Admirals skipper.

"I'll think about it in a few years from now," Courtney said in his typical modesty. "The credit goes to all these former players and these coaches I've coached with. We have a great tradition here and the program and the community.

"I've never kept those numbers," he added. "I've never counted the wins. That's not what I'm about. Right now I just wanna win next week."

"Farragut High School is lucky to have a man like Eddie Courtney," Donald Dodgen, Farragut athletic director, said. Dodgen and Courtney go back more than 25 years together at FHS.

"Eddie's not only a great coach, but a better person," he added. "He cares about those kids and wants them to be good young men. He's a true gentleman."

Like any long journey, Courtney has known highs and lows. To date, he's beaten both Hodgkin's disease and prostate cancer. These days he's going strong.

Honors and accolades include capturing the Class 5A state championship in 2016, earning the Greater Knoxville Sports Hall of Fame Pat Summitt Ignite Award, and being inducted into the 2020 Class of TNFCA Hall of Fame.

"As a coach you can try to help others, be a better person and a better football player," Courtney said.