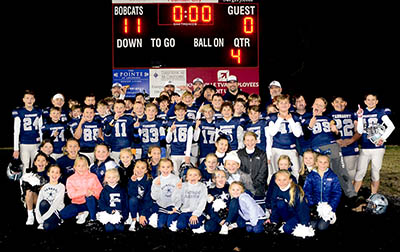 FOUNTAIN CITY — Farragut MAC football now has back-to-back undefeated league champions.

This bunch of Mini Admirals, Zack Holmes' 6th-Grade juggernaut, battled cold temperatures at Knoxville Central High School and shut out Karns 11-0 to finish with an unblemished 8-0 record — with Holmes' defense allowing just six points the entire season.

"I'm proud of these boys," Holmes said. "Defense, as usual, has come up strong."

As for scoring, Gavin McClurkin was the main man among several Farragut players who contributed in this title game — and this season.

With just 49 seconds left in the first half, Gavin got loose down the left sideline and hauled in a beautiful TD strike from quarterback Harrison Holmes, covering 27 yards. "That was a big touchdown throw," coach Holmes said.

Gavin also added the twopoint conversion kick, with Raleigh Miller holding, to make it 8-0.

If that wasn't enough, linebacker Gavin intercepted a pass and set up the game's final points: his well-struck 26-yard field goal came with just 3:57 left in the game.

Other key offensive Mini Ads are running backs Baylor Lewis, Brayden Wilder and Eli Nichols, tight-end Hayes Quinley, receivers Porter Smith and Brogan Elliott, and offensive linemen Gabriel Gonzalez, Ilar Valedon, Jonathan Cosey, Asahel Cabrera and Reid Gabel.

Defensively, linemen are Gabriel, Reid, Nolan Titus and Jacob Beilstein. Other linebackers are Hayes, Brayden, Harrison, Colt Newby and Baylor. Cornerbacks are Porter, Brogan and Raleigh. Safeties are Eli and Carter Maltais.

Holmes' assistant coaches are Brian Quinley, Jose Valedon, Joel Newby and Randy Miller.