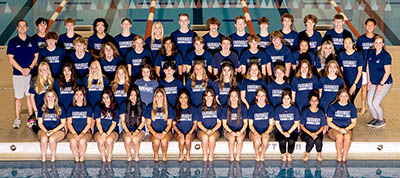 There's nothing like beginning your season by beating your rival. That's what the Farragut swim & dive team accomplished versus Bearden, winning 217-107 thanks to 13 first-place finishes, 13 second-place showings and seven third-place efforts last weekend in UT's Allan Jones Intercollegiate Aquatic Center.

"After a strong foundation from last season, finishing second overall at the state championships — second to private school Baylor — I am pleased to be starting off this new season with a win," Aqua Ads head coach Jessica Abrahamson said. "It is setting the standard of excellence that this program historically is known for.

"I am really proud of all the athletes at this meet," she added. "They have been working very hard to make this meet a win. Over the past few weeks we have engaged in conversations on goal setting and getting our minds right in order to be used to being competitive, especially when competing against such an incredible program like Bearden High School."

Sixteen state qualifiers during the meet were Riley Brown, Katelyn Kramer, Grace LaCharite, Yohan Le Pape, Camden Gerchar, Sophie Lu, Ella Roettger, Ayden Skelton, Karolina Nosarzewski, Elliot Mandl, Leo Karnitz, Hisato Kurosaki, Kendall Hudgens, Karley Wolfgram and Evan King.

LaCharite and Karley Wolfgram tied as FHS girls high-point earners. "Both of these ladies are amazingly gift athletes," Abrahamson said. "They are such a joy to coach and to have on our team."

Camden Gerchar and Noah Roettger were tied as boys team high-point earners. "Camden, a graduating senior this year, and a team captain, has been invaluable to our team over the years," the Admirals skipper said. "I very much look forward to seeing his training play out in his great finale of his high school swimming career.

Farragut also swept first-place in diving thanks to Camden Croy (115.45) for the boys and Olivia Kohl (81.25) for the girls. "I've been an athlete on Farragut swim since freshman year, and every year I get to not only compete, but make new friends with my teammates," Gerchar said.

"The opportunity to compete with your friends gives you a sense of purpose to hold yourself to a higher standard of athletic achievement, and in essence is what team spirit is all about," he added.

"I've been on Farragut swim and dive since freshman year and I wouldn't trade it for the world," Kramer said.

"It's been an amazing way to create a solid group of friends and enjoy the high school sports experience. I hope that one day I look back on this year and get to say it was our best season yet," she added.