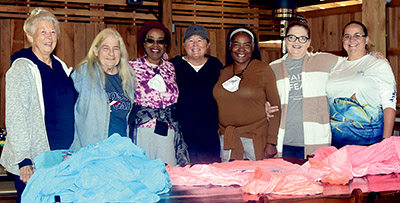 Sisters Cyndi Walker and Marsha Hurst started Children's Outreach Program four years ago to help needy children stay warm in the winter, and they just capped their most comprehensive and successful season yet.

The duo, along with a handful of dedicated volunteers including their mother, Virginia Hurst, gathered at Riverview Family Farm in early October to separate donations into bundles ready for delivery throughout East Tennessee.

Virginia estimated the group was able to help about 200 students this year alone.

"We work all year on the program, but try to get deliveries out before the first frost," she said.

"We, for sure, try to have them all delivered by Halloween," added Walker, who grew up with her sister in Choto, where both Marsha and Virginia still live.

The program began when Walker was made aware of her daughter's classmate's need for new shoes in Jefferson County.

"So, I went out and grabbed a new pair of shoes," Walker recalled. "Then, I found out that child had three siblings, and they needed new shoes, too."

The program only grew from there.

"We started out with shoes, then found out a lot of those same kids also needed coats," Virginia said. "All of a sudden we had 92 coats we were able to deliver."

That was just the first year, when they helped students at Newport Grammar, Piedmont Elementary and Del Rio schools.

Word of mouth revealed the issue is wid-spread.

"It was designed to help in rural schools, but inner city kids need help, too," said Virginia, who, Walker said, has led by example down through the years.

"We have always done charity work from the time I was a little girl," Walker explained. "My mom always did what she could for the community and passed it on to us, and now I've passed it on to my children.

"You can't just go through life just worrying about yourself," she added.

The program has grown over the years to include donated socks and gloves, for which the volunteers shop and take donations year-round.

All donations are new, not used.

"This is something that is so needed," long-time volunteer Sallie Cox said. "I know the kids are so thrilled to get something new — some of them never have new things."

"Those kids are what it's all about," Virginia added.

For more information, visit https://donorbox.org/gearing-up-for-east-tn-winter or on Facebook https://www.facebook.com/groups/392554232115751/?ref=share.